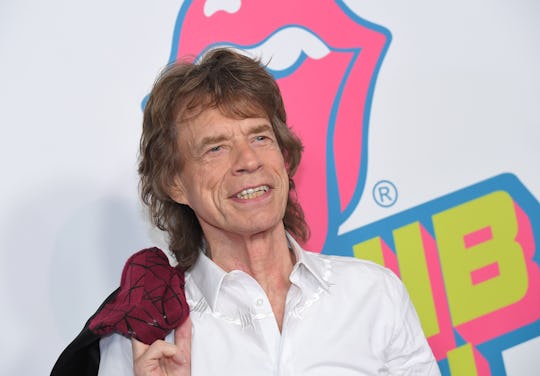 ANGELA WEISS/AFP/Getty Images
Mick Jagger Welcomes His 8th Kid At 73, & People Have Lots To Say About It
It seems like just yesterday that I seriously considered bringing my then-3-year-old son to see the Rolling Stones on their 50th anniversary tour because I worried that it may be his last chance to see them live (I decided against it). Apparently my fears were unfounded, because not only are they still touring, they're still procreating. The Guardian has reported that on Thursday, 73-year-old Mick Jagger welcomed his eighth child, and if you're interested in reading the same three jokes over and over, Twitter is here for you.
Let's get the facts out of the way. This is Jagger's first child with his current girlfriend, ballerina Melanie Hamrick, who at 29 is only five years older than Jagger's oldest grandchild, Assisi Jackson. In 2014, Jackson gave birth to her own child, which makes Jagger a great-grandfather. Also of note is the fact that Jagger has fathered children with five different women. The three jokes you'll see, in order of frequency, are "When I saw Mick Jagger trending, I thought he was dead," "LOL they both wear diapers because old," and "He's still getting it in, that's so rock and roll, I'm jealous." Ugh.
Of course this is an unusual situation, and I'd be lying if said I don't worry that he won't make it to adulthood without losing his father, which is tragic. The bottom line is that nobody has the right to tell anyone, man or woman, whether or not to have a kid, but still, many are judging Jagger for his choice. But it's the tone that's especially concerning to me. Would people be joking this way if it was about anyone but Jagger?
Consider the case of Daljinder Kaur, the 72-year-old Indian woman who, through in-vitro fertilization, gave birth to her first child in April with her husband of 46 years. Her story was met with scorn and disgust as people accused her and her doctor of going "too far." Curiously, there wasn't too much judgement left over for her 79-year-old husband.
And as for having babies with multiple partners, fans were calling singer Ciara a "ho" back in October when she announced that she was expecting a baby with her husband, football player Russell Wilson, because she already has one other child with rapper Future. So why wasn't Kaur's choice "so rock and roll"? And why isn't anyone calling Jagger a slut? What could that difference be? We may never know.