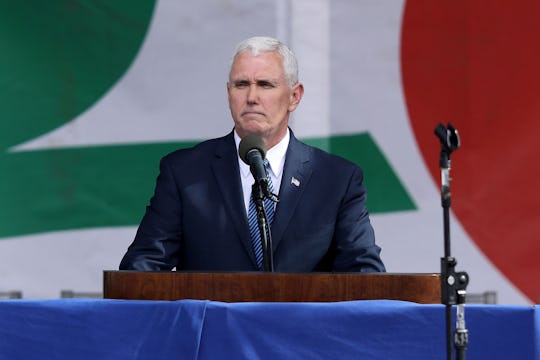 Chip Somodevilla/Getty Images News/Getty Images
Why Was Mike Pence Booed At Super Bowl 51?
It must have been awkward for Vice President Mike Pence to show up for Super Bowl 51, a macabre reunion of sorts. You remember the reception he got when he went to see Hamilton, yes? The booing, the jeers, the pitch perfect plea from the cast to be a decent human being? It must have felt like a terrifying flashback for the guy on Sunday, because Mike Pence was reportedly booed at Super Bowl 51. Maybe he should have just stayed home to share some queso dip with President Trump.
America was having a lovely moment for a time. The coin toss was about to happen, former President George Bush Sr. and his wife Barbara Bush were brought out on the field to give a hand. Zoom in on the emotional faces watching their slow progression across the Houston NRG Stadium(because even if you didn't like Bush at the time, you've gotta be thinking on some level, "those were the days," right?). We were all like, this is nice. This is sort of sweet and nostalgic. And then Vice President Mike Pence's mug showed up on the jumbotron. Talk about Deflategate... we were all brought back to the now. Thanks Pence.
He isn't the first vice president to attend the Super Bowl, of course. According to Variety, former vice presidents Al Gore, Spiro Agnew, and Bush himself (when he was second in command for former President Ronald Reagan), have all shown up for the amazing halftime shows that are served with a side of football. But their reception was a little tamer than Pence's at Super Bowl 51.
Pence's appearance at the Super Bowl naturally hearkens back to his appearance at a New York taping of Hamilton, when he was still vice president-elect and the possibility of a Trump presidency felt like a bad dream that might not happen. At the time, The Huffington Post noted that Hamilton cast member Brandon Victor Dixon spoke directly to Pence as he tried to leave the theater:
We, sir, we are the diverse America who are alarmed and anxious that your new administration will not protect us, our planet, our children, our parents, or defend us and uphold our inalienable rights. We truly hope this show has inspired you to uphold our American values and work on behalf of all of us. All of us.
And now they can all reunite, as Hamilton cast members sang "America, The Beautiful."
Or maybe he didn't know they were performing? Maybe he showed up for Lady Gaga's halftime show?
Or I guess he could be a football fan. Yes, this seems more likely, since Pence doesn't exactly have a history of arts appreciation, does he? Or acceptance of any kind, really.
So, guess have fun at the game, Pence. Also, you sort of look a little like Voldemort. It's a compliment, I promise.