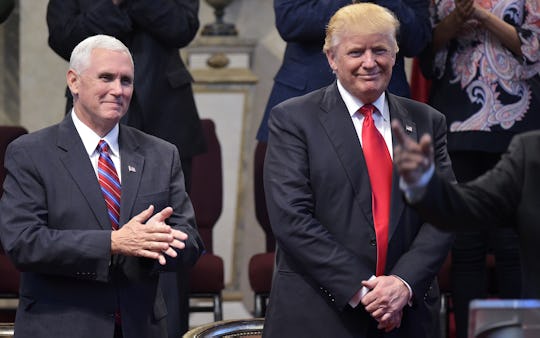 MANDEL NGAN/AFP/Getty Images
Mike Pence Isn't Featured On Donald Trump's Website, & It's Kind Of Bizarre
During the one and only vice presidential debate, many viewers at home hoped to learn as much as possible about the men who could hold the position directly beneath president. In the course of their research into the candidates, however, some noticed something was amiss: Mike Pence isn't featured on Donald Trump's website. This seemed to strike many people as bizarre, especially considering Trump has said good things about his running mate in the past.
The vice president of the United States is just one heartbeat away from the presidency. So, rightfully, the vice presidential candidates are also under a lot of scrutiny during the election. Typically, this translates to the presidential candidates boasting about his or her running mate. But, this is strangely not the case with Trump and his potential vice president, Pence — at least when it comes to Trump's website.
Although Trump seemed tormented with the decision of who should be his running mate, he settled on the Indiana governor in July, which meant his campaign had plenty of time to add a simple biography for Pence to the official Trump website. Yet, information introducing Pence is nowhere to be found on Trump's site, to the confusion of many.
This also fueled claims that Trump is a bit of an egomaniac who couldn't even spare space on his campaign website for a biography of his running mate.
This wasn't the first time Trump's website seemed to have problems during crucial moments in the campaign. Just last week, during the first presidential debate, the whole DonaldJTrump.com site crashed right after the Republican nominee directed viewers there. Now, with eyes again turning to the website to learn more about Trump's right-hand man, there is again a blank — except this time it wasn't a technological malfunction.
That's a big missed opportunity for the Trump campaign, as, without a biography for Pence, voters are left to search for information about the governor from other sources. The top search engine results for those include Wikipedia and the Indiana government site. The latter of which describes Pence as, "a lifelong Hoosier with legal, small business and policy experience,"among other details about his resume. However, there is no information about him even being in the running for vice president — which means there is no direct information about what he plans to offer in the capacity of vice president under Trump.
Left without an official biography of Pence on the Trump website, voters must draw their own conclusions — and that may not be the best for the campaign.