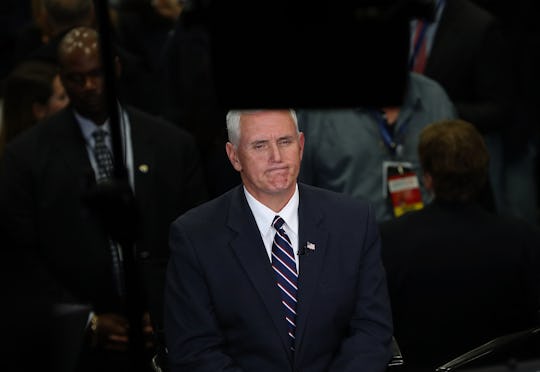 Justin Sullivan/Getty Images News/Getty Images
Mike Pence Loses Anti-Refugee Battle With Federal Court Ahead Of The VP Debate
Mike Pence, this is your life. You are finally, finally going to have your moment in the sun. Tuesday night's vice presidential debate between Indiana Gov. Mike Pence and Virginia Sen. Tim Kaine promises to be less of a snooze fest than some might think, trust me. While anyone who is tuning in expecting the crackling fireworks of a Trump/Clinton debate could sorely be disappointed, it should be interesting to see how these almost-presidents manage to make their voices heard. And it will be especially interesting to find out whether or not Pence losing his anti-refugee battle with a federal court will be brought up in the debate.
The U.S. Court of Appeals for the Seventh Circuit blocked Pence's bid to keep Syrian refugees out of Indiana on Monday. The three judge panel upheld the decision of a lower court that the Syrian refugees could not be discriminated against based on their nationality. The unanimous decision also found that Pence acted illegally when he accepted federal funds for the resettlement of the Syrian refugees, and then attempted to bar their entry into Indiana. Pence spokeswoman Kara Brooks released a statement to CNN, defending Pence's decision to bar the refugees:
The safety and security of the people of Indiana is Gov. Pence's highest priority. The state of Indiana took decisive action last year to suspend resettlement of Syrian refugees after the terrorist attack in Paris and because the FBI and the Department of Homeland Security acknowledged security gaps with regard to screening refugees from Syria.
In the court's opinion, written by one of the three judges in the case, Judge Richard Posner, the state "provides no evidence that Syrian terrorists are posing as refugees or that Syrian refugees have ever committed acts of terrorism in the United States." The court also referred to Pence's decision to bar refugees after the Paris terror attacks because he felt terrorists were posing as Syrian refugees a "nightmare speculation" without a single shred of evidence:
The governor of Indiana believes, though without evidence, that some of these persons were sent to Syria by ISIS to engage in terrorism and now wish to infiltrate the United States in order to commit terrorist acts here. No evidence of this belief has been presented, however; it is nightmare speculation.
Resettlement of persecuted refugees is a federal responsibility, according to the court's decision. Particularly after a politician takes money for said resettlement.
The questions to be posed for Tuesday night's vice presidential debate at Longwood University in Virginia are still under wraps, but hopefully moderator Elaine Quijano will push Pence on his attempt to refuse entry to persecuted refugees who have been living in deplorable conditions. What does that say to his potential stance on immigration? His empathy, his compassion, his belief in basic human rights?
Perhaps Mike Pence shouldn't necessarily be looking forward to his moment in the sun after all.