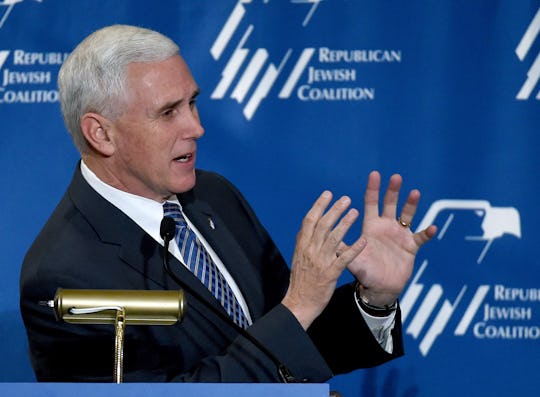 Ethan Miller/Getty Images News/Getty Images
Mike Pence Memes Show The Internet Is Having A Field Day With Trump's Reported VP Pick
You knew America was going to have a field day with whoever Republican presidential candidate Donald Trump chose as his VP pick, but when Roll Call reported Thursday that Trump selected conservative Indiana Gov. Mike Pence as his running mate, things really kicked into overdrive on social media. The Mike Pence memes about Trump's VP pick so far are pretty great, and now is the moment to take them all in. How else are you going to steel yourself to dissect Pence's record, including the deeply disturbing things he's said about gay people and women? UPDATE: Trump confirmed Pence as his running mate in a tweet Friday morning and said he would host a news conference on Saturday.
Okay, to be fair, the Mike Pence VP memes are perhaps not as epic as they would have been for a Trump-Christie ticket (remember Christie's epic expression standing behind The Donald on Super Tuesday?), but they're pretty good. The New York Post got the ball rolling with a Bachelor-inspired meme:
As did the Weekly Standard:
And then there were other gems:
There was the SpongeBob comparison:
And there was the reference to the op-ed Pence once wrote about how "smoking doesn't kill":
Not bad, internet, not bad.