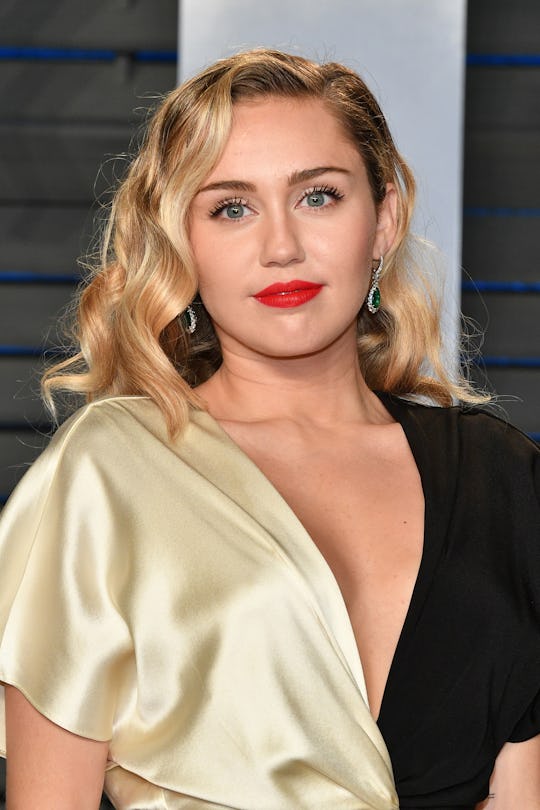 Dia Dipasupil/Getty Images Entertainment/Getty Images
Miley Cyrus Has A Message About That 2008 'Vanity Fair' Cover & It's Really Empowering
Women have long been, more or less, stuck between society's oscillating expectation that they maintain their purity and exploit their sexuality at the same time. This has never been so apparent as with young celebrities, particularly ones who come of age in the spotlight. However, times are a changin', which was apparent on Twitter last night when one of Disney's biggest breakout stars commented on a "scandal" that went down 10 years ago. On Sunday, Miley Cyrus said she's "not sorry" for a Vanity Fair cover that sparked controversy in 2008, and to be honest, she didn't need to be in the first place.
Cyrus took to Twitter to share a series of throwback photos over the weekend, as Entertainment Weekly reported, concluding with one of the front page of the New York Post, of which the headline read in a huge font: "Miley's Shame." It was in reference to her 2008 Vanity Fair cover, shot by famed photographer Annie Leibovitz, which received a lot of backlash because her back was exposed. The subhead read: "TV's 'Hannah' apologizes for near-nude pic," which was, honestly, a stretch even then.
However, as of yesterday, Cyrus seemed to retract a statement apologizing for the photo made years ago, captioning a photo of the cover: "I'M NOT SORRY... F**k YOU."
In 2008, Cyrus was asked in the accompanying Vanity Fair interview whether she was nervous about the cover photo, and she said: "No, I mean I had a big blanket on. And I thought, This looks pretty, and really natural. I think it's really artsy." After experiencing a subsequent backlash, Entertainment Weekly reported that she issued a statement at the time to address the "disappointment" of her young fans:
I appreciate all the support of my fans and hope they understand that along the way I am going to make mistakes and I am not perfect. I never intended for any of this to happen, and I am truly sorry if I have disappointed anyone.
This would not be the last time Cyrus would have to deal with the public being more or less horrified that she wasn't going to stay an 11-year-old girl forever. Five years later, The Guardian reported that Cyrus was again receiving scrutiny for her "raunchy" VMA performance with Robin Thicke. Years later, in 2017, Cyrus didn't so much apologize for that as she began to realize how much influence she had, as INSIDER reported.
"If that many people are going to talk about something that I do, then I should make it a good thing," she said on a segment of James Corden's Carpool Karaoke. "I should make it something that can change people's lives." She went on to start the Happy Hippie Foundation, which Variety reported is a charity in service of homeless LGBTQ+ youth, she's also been an outspoken advocate for other political and social issues.
As great as all of that is, it shouldn't eclipse the real issue, which was how society sexualized a young girl, reprimanded her for later being expressive, and then pressured her apologize for it all. Cyrus has been open about the impact that being a famous young woman has had on her, telling CBS News last year that playing Hannah Montana did "extreme damage to my psyche." According to CBS News, she shared:
I don't feel like I got knocked down, but I got that women-judgment double-standard in a heavy dosing.
Judged she was, and she's not the first or last to experience it. (The public's response to Stranger Things star 13-year-old Millie Bobby Brown's Golden Globes dress is just one instance that comes to mind.) The reality is that the photo was relatively innocuous, and the public's response to it says more about society than it does Cyrus' choices. The fact that, 10 years later, she's made it a point to say she isn't sorry is groundbreaking, because in 2018, you'd be hard-pressed to find such backlash without at least a little bit of resistance — and that's how it should be. Gone are the days of sexualizing and then criticizing young girls... and then making them pay for society's misguided judgments.