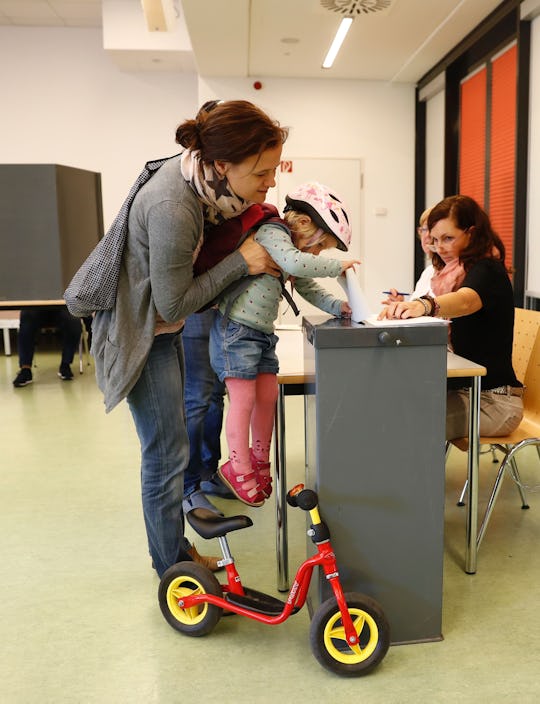 ODD ANDERSEN/AFP/Getty Images
Millennial Moms, Your Vote Has Literally Never Been More Important
What can only be described as the most bizarre, most tumultuous and most important presidential election this country has ever seen, is only 42 days away. In the last 42 days three debates, countless adds, probably more scandals and even more in-depth analysis of Republican presidential candidate Donald Trump and Democratic presidential candidate Hillary Clinton will no doubt be had; further attempting to sway would-be or potential voters to cast their ballots either red or blue. Regardless of who you end up voting for, however, one undeniable fact remains: you need to vote. Millennial moms, your vote has never been more important and, come Nov. 8, it will be the voices currently raising the next generation that must be heard via cast ballots from coast to coast.
Of course, there the obvious reasons why millennial mothers should be voting in the upcoming election. The United States is the only industrialized country not offering its citizens mandatory paid maternity and paternity leave. While only 1/3 of mothers worked in the '70s, an estimated 85 million mothers are part of the American workforce (over half of all mothers in the United States) today. A recent report by the Pew Foundation revealed that over 40 percent of working mothers are the sole or primary income provider, showing a decline in "traditional" gender roles and a steady incline in women returning to the workforce after becoming mothers. Working moms now, more than ever, need to be supported (as do their souses, significant others or parenting partners) and one way to give mothers the support they need is offering mandatory paid family leave.
Mothers will have the ability to take the time they need to recover from something as physically demanding as labor and delivery while simultaneously bonding with their baby, without worrying about their position in the company they work for or how they'll make next month's rent or mortgage payment. Fathers can take time off from work to not only take care of their baby, but take care of the woman who birthed their baby, without fear they'll lose their position or be able to financially contribute to their family.
As part of her platform, Clinton has promised to fight for 12 weeks of guaranteed, paid family and medical leave, so a mother (or father) can care for a new child and/or a seriously ill family member. When asked about his thoughts on paid family leave, Trump replied, "Well it's something that's being discussed. I think we have to keep our country very competitive, so we have to be careful of it. But certainly there are a lot of people discussing it." Trump has since revealed his own plan for paid maternity leave for new mothers who are not guaranteed paid leave through their employer, offering six weeks of paid maternity leave for new mothers through unemployment insurance. Sadly, however, Trump's new paid maternity leave plan is said to exclude single mothers. "We don't have the exact legislation written down," Trump campaign spokesman Jason Miller told The Washington Post. Fathers and parents who adopt, according to Trump's campaign website, would also not be eligible for the six weeks of paid leave.
With more and more women staying in the workforce after they become mothers, the gender pay gap has becoming increasingly dangerous. Currently, a woman earns 79 cents for every dollar a man earns. With more and more women becoming the primary financial provider for her family, the pay gap is not only sexist, demeaning, inhumane and unfair, it's detrimental to families across the country and potentially keeps families in poverty. Equal pay for equal work is vital, yet the two presidential nominees aren't on the same page when it comes to equality in the workplace. Clinton has called on Congress to pass the Paycheck Fairness Act, which would ensure equal pay for women. Clinton claimed, "The failure to ensure equal pay for women also impacts families and the broader economy." Trump, however, has flip-flopped on the issue, saying in August of 2015 that men and women deserve "equal pay for equal work" but, just a few months later, dismissed the idea of a gender pay gap entirely. In an event in October, Trump told an audience member in Manchester, N.H. that, "you're gonna make the same if you do as good a job." Since then, a former Trump staffer sued Trump in January of 2016 for gender discrimination, claiming Trump paid male staffers more than women staffers in the same role.
Of course, a woman should be protected and supported in the workplace before she becomes a mother (if she even chooses to become a mother), so problems like sexism in the workplace, sexual harassment and blatant discrimination are issues every millennial mom (or, you know, human being) should pay attention to. The Pregnant Workers Fairness Act has been sitting in congress since June of 2015; a piece of legislation that would not only require employers to provide reasonable accommodations for pregnant workers, but would "promote healthy pregnancies and the economic security of pregnant women and their families" by inhibiting employers from forcing pregnant women out of their jobs for the sake of their health and the health of their pregnancies. At this time, there are no Republican co-sponsors of the bill.
The right to full body autonomy and legal, safe, affordable and accessible abortions is yet another reason why millennial moms must make their voice heard in November. An estimated 1 in 3 women will have an abortion during their lifetime, and an estimated 59 percent of those women are mothers who have already had a child or children. Moms make up the majority of women who have abortions, which is why millennial mothers who believe in reproductive rights and every woman's right to choose need to make their way to the voting booth. Trump has passionately spoke out against abortions, saying rather infamously that women who have abortions "should be punished."
While Trump went on to say he misspoke, and it's the doctors who perform abortions that should be punished and not the women who have them, he solidified his anti-choice stance when he made Mike Pence his vice presidential running mate. The former Indiana Governor spent the better part of his term trying to amend abortion laws in his state, restricting abortion access and putting women's lives in danger. For example, Pence signed House Bill 1137 into law, limiting abortion access and keeping women from choosing abortion if a fetus is diagnosed with a potential disability, like Down syndrome; forcing women to endure potentially high risk and dangerous pregnancies. Pence is credited with leading the fight that ended with Congress de-funding Planned Parenthood, has been called the "Evangelical pro-life champion" and, as a result of restricted access to healthcare, is arguably the reason why a public health emergency was declared in Indiana, after officials saw a growing number of HIV cases after five Planned Parenthood clinics were forced to shut down due to their funding being cut.
Of course, there a number of other reasons why millennial moms need to make it a priority to vote on Nov 8. After all, being a mother doesn't mean the rest of your humanity is whittled away or erased. If you care about the LGBTQ community, same-sex marriage, our economy, ending systemic racism and police brutality, supporting our soldiers both home and abroad (and especially when they come back and get out of the military), or ending global warming, you have to vote. If you care about the things your children will hear from their president — whether it's about women, about disabled individuals, or about minorities — you have to vote. If you want your child to live in a world that's vastly superior to the one we're currently living in, you have to vote.
As a millennial mother, I will be casting my ballot. I will be making my voice heard, not just for myself and the countless men and women I share this country with — men and women of every age, gender, race, religion, sexual orientation, parents and non-parents alike — but also for my son.
Millennial moms deserve better than the potential, not to mention terrifying, ramifications of our silence. We deserve better than a continued if not larger pay gap, little-to-no paid family leave, decreased body autonomy and reproductive rights, and a future that promises division instead of diversity. I deserve better. My son deserves better. We all deserve better.