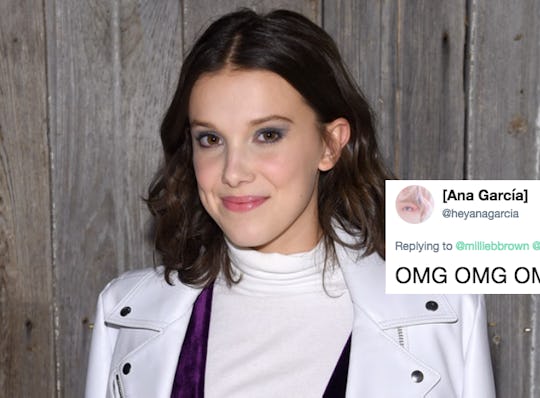 Jamie McCarthy/Getty Images Entertainment/Getty Images
Millie Bobby Brown Confirms She Has A Boyfriend & People Are Really Freaking Out
Rumors that Stranger Things actress Millie Bobby Brown is dating YouTuber/singer Jacob Sartorius have been flying over the past few weeks. Fans have been waiting patiently for the alleged couple to share a slightly-less vague clue about their relationship — and the pair has finally cleared things up. On Wednesday, Millie Bobby Brown and Jacob Sartorius confirmed their relationship with an adorable tweet in honor of Valentine's Day.
"Happy Valentine's day J ❤️ @jacobsartorius," Brown, who turns 14 later this month, tweeted on the romantic holiday, alongside a photo of her and 15-year-old Sartorius seemingly leaning in for a kiss. Sartorius responded to her tweet with an equally simple yet romantic message. "Happy valentine's day.. see you soon," he wrote. If that doesn't mean that they are officially dating, I don't know what will. You don't use a heart emoji when dedicating posts to your bae on social media if things aren't serious!
The two are a little over a year apart in age — Sartorius turned 15 in October, and Brown will turn 14 this Friday. Despite her young age, Brown quickly rose to fame for her scene-stealing role as Eleven on Stranger Things. Sartorius' name may be a little less familiar, unless you're a hip teen. Like many other ambiguously famous teenagers, his career started on the internet. He first gained notoriety for posting lip syncing videos online, later starting a YouTube channel and creating original music of his own (including a lot of songs about young love — awww).
And Sartorius also dedicated a social media post to his bae — albeit, a slightly less permanent one. "Happy Valentine's Day to this beautiful girl," he wrote on his Instagram story, on top of a photo of the pair. "I miss eating Chick-fil-A with you every day. See you soon. ❤️"
Fans of the teenage stars promptly exploded in response to Brown's V-Day tweet, having reactions to the news all over Twitter.
Some fans could barely form words because they were so excited.
Others made Stranger Things-themed jokes.
However, many were also quick to criticize the couple — mostly for being so young.
But some of her loyal fans defended the couple and their "young love."
Actress Bella Thorne also sent the couple her well wishes, further confirming that they've been keeping their relationship under wraps for a little while.
Rumors of a relationship between Brown and Sartorius began last month, when Brown shared an Insta post of herself hugging a giant teddy bear. "Thanks for the bear ❤️," she captioned the shot, igniting rumors that she had a boyfriend — possibly Sartorius. Soon after, eagle-eyed fans noticed them liking each other's social media posts, according to E! News. And then, Brown posted a photo of the duo on her Instagram story, according to HelloGiggles. The picture, which was a black and white shot captioned with three hearts, was dated back to Dec. 31, 2017 — perhaps they were each other's New Years Eve dates? And a week ago, Sartorius tweeted a photo of himself and Brown, huddled under an umbrella, with his arm around her.
So while Brown is totally entitled to keep updates about her love life as private as she wants to, the past few weeks of vague social media posts made today's news feel like a long time coming.
Brown has not publicly dated anyone before — and she seems to be new to the world of romance (as most 13-year-olds are). In an October 2016 interview, she was asked about having to kiss her Stranger Things costar Finn Wolfhard on the show. "At the end of the day, it's only acting, and it's something you have to do, and I would do anything for the show. I cut my hair, I kissed Finn," she said at the time, according the Daily Mail. "It was definitely strange. It was, like, my first kiss, so it was kind of weird. But then, like, when I'd done it, I thought, 'Wow. It makes sense for the storyline'."
However, Sartorius is rumored to have had several girlfriends in his short dating life. One girl he was linked to was Maddie Ziegler, who is close friends with Brown. The trio seems to be drama-free, though — teens these days are approximately 100 times more chill and mature than I was at their age, after all.
Check out Romper's new video series, Romper's Doula Diaries:
Watch full episodes of Romper's Doula Diaries on Facebook Watch.