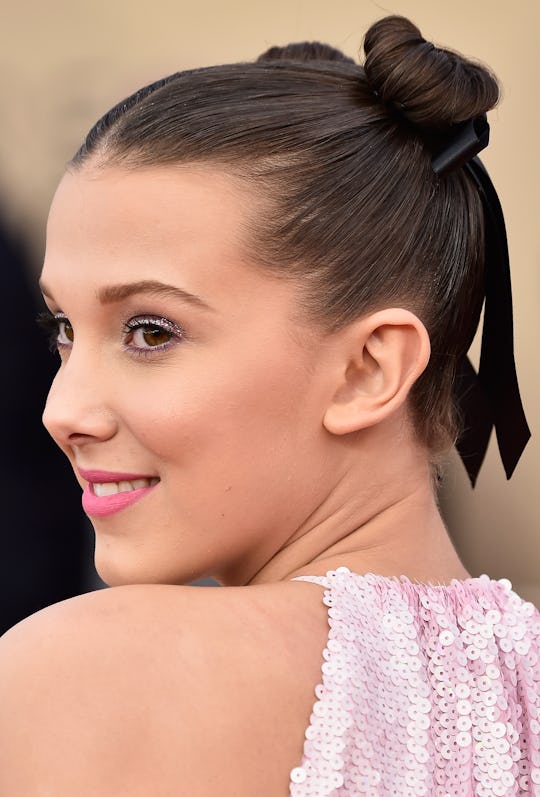 Frazer Harrison/Getty Images Entertainment/Getty Images
Twitter Had Some Thoughts About Millie Bobby Brown's SAG Awards Snub
In case you haven't noticed, Millie Bobby Brown is having a moment. She's the youngest person whose wardrobe I've ever wanted to steal, and she's getting nominated left and right for her outstanding performance in Stranger Things. So when Millie Bobby Brown was snubbed at the 2018 SAG Awards, Twitter predictably had lots of opinions about it. There are few shows on right now that are quite as beloved as Stranger Things, and this is not just for its adorable pint-sized cast.
Millie Bobby Brown was nominated for two SAG Awards, technically. The first nomination was as part of the ensemble for the whole Stranger Things cast, which was nominated for Outstanding Performance by an Ensemble in a Drama Series, up against heavyweights like Game of Thrones, The Crown, The Handmaid's Tale, and This Is Us. But Brown was also nominated individually for her work in the show in the category of Outstanding Performance by a Female Actor in a Drama Series. Up against Brown in this lineup were Elisabeth Moss, Claire Foy, Robin Wright, and Laura Linney. Just to be nominated in the company of these incredible women is huge, especially for such a young actor. Strangely, Brown's co-star in Stranger Things, Winona Ryder, was not nominated in that category this year. So when Brown didn't win the award, fans were disappointed but not shocked.
The actual award ended up going to Foy for The Crown. In fairness, Foy was incredible in that role and she absolutely deserved the award for that. After all, it cannot be easy to speak all your lines in that strange Royal accent where you have to pronounce "y" sounds like "eh." There are other reasons she was fantastic though, of course.
Brown first captured everyone's attention with the first season of Stranger Things, in which she played the child/experimental subject with telekinetic powers. Brown was incredible for her power to emote so forcefully despite having very few lines in the show beyond occasionally screaming "Mike!" at her new best friend. In the second season she got a lot more to say (as well as a fun new wardrobe), and award ceremonies have been recognizing her incredible work by nominating her for all kinds of accolades. And at 13 years old, I honestly think that just get nominated in the same category as these women is a huge win. I have a feeling Brown will have work in Hollywood for as long as she wants it.
In a red carpet interview with Giuliana Rancic on E! before the show began, Brown said that after the awards, win or lose, she was going to spend the night dancing away at the after parties. She even paired her pink sparkly awards dress with Converse sneakers for that very purpose. She also said that after the ceremony she plans on going home to watch TV and eat pizza with her family. Frankly, the pizza part kind of sounds like more fun, but I'm a professional blogger who rarely leaves my apartment so maybe I'm biased.
Brown wasn't the only Stranger Things star to be nominated for a SAG Award. In addition to the ensemble cast, her TV adoptive dad David Harbour was nominated in the Best Male Actor category. He ended up losing the award to Sterling K. Brown for This is Us and This is Us won the ensemble award as well. Even though she lost, I'm thrilled with Brown's nomination to begin with. And after all, 13 years old is truly only the beginning.
Check out Romper's new video series, Romper's Doula Diaries:
Watch full episodes of Romper's Doula Diaries on Facebook Watch.