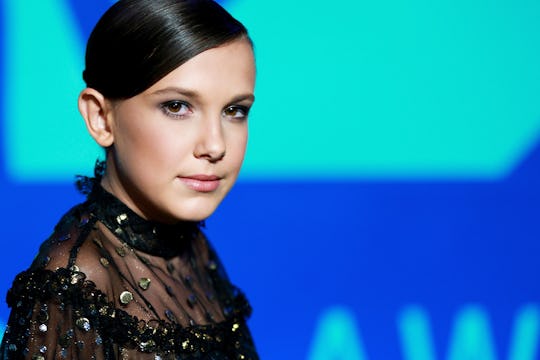 Rich Fury/Getty Images Entertainment/Getty Images
Millie Bobby Brown Will Produce & Star In Film Series About Sherlock Holmes' Sister
Is there anything Millie Bobby Brown can't do? I mean, it's not that seeing an almost 14-year-old girl accomplish so much makes me feel inadequate, per se. More that watching her career makes me question every life choice I've made ever since turning down a part in my second grade Christmas concert. But enough about me; the Stranger Things actress is continuing her quest to win Hollywood, and I'm yet another fan who is loving it. Her latest move? Millie Bobby Brown will produce and star in a new film series based on Nancy Springer's Enola Holmes mysteries novels and it's basically the most amazing fit I can imagine.
The Emmy-nominated actress and young style icon just closed a deal with Legendary Entertainment to produce and star in the series based on Enola Holmes, younger sister of that famous fictional detective Sherlock Holmes and has been solving cases on her own ever since the debut novel The Case Of The Missing Marquess hit stores in 2006. There have been six books in the series so far, with Enola Holmes managing to "outsmart" her older brothers Sherlock and Mycroft, from whom she's been hiding, at every turn despite being considerably younger than them both.
It's an especially perfect role for the precocious young Brown, who managed to outdo all of the grown-up celebrities on the red carpet at The 75th Golden Globe Awards on Sunday, looking fierce and bringing Drake along as her security guard/plus one to the Netflix after party.
Brown is of course best known for her role as Eleven on Stranger Things, a young woman with a mysterious past and a whole host of *unusual* traits, not terribly unlike the character of Enola Holmes. When Enola is first introduced to readers in The Case Of The Missing Marquess, she finds herself at odds with her much older brothers who don't really appear to take her very seriously. When their mother goes missing, Enola is keen to solve the mystery, but her brothers try to send her away to boarding school instead. They're rather lucky they didn't try the same shady trick on Eleven, if you ask me.
Rather than breaking someone's arm, Enola decided to run away to avoid being sent to boarding school. And discovers that there are plenty of mysteries to be solved along the way. Enola's brother Sherlock is trying to hunt his sister down, and other familiar characters are introduced throughout Enola's journey as well. I don't know about you, but I'm already here for all of this.
It's still too early to get a release date on the Enola Brown series, but Millie Bobby Brown fans needn't worry; it seems she has another exciting new project in the works. Brown will be starring in Godzilla: King Of Monsters in 2019, "an epic action adventure that pits Godzilla against some of the most popular monsters in pop culture history."
Plus, let's not forget that The Duffer Brothers, the famous duo behind Stranger Things, have already confirmed that Eleven will be back for more Eggo waffles in a third and fourth season of the wildly popular Netflix series.
In other words, Millie Bobby Brown isn't just sitting around here, relaxing and enjoying being one of the most famous teenagers in the country. The girl is showing up for duty, and making some fairly brilliant choices along the way. Whether she's owning the red carpet, racking up millions of followers on Instagram, or penning a major deal with a studio to produce and star in a film series under her own production company (PCMA Productions), she's got the bull by the horns. And seems to be loving every minute of it.
Check out Romper's new video series, Romper's Doula Diaries:
Watch full episodes of Romper's Doula Diaries on Facebook Watch.