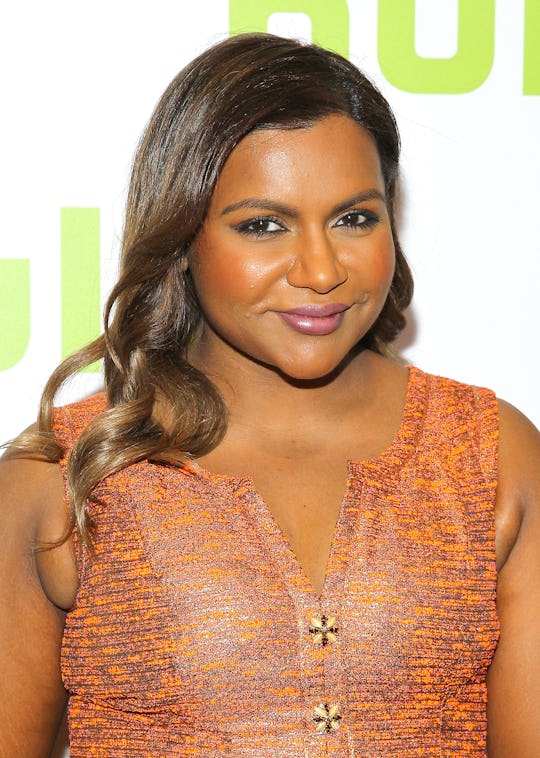 Astrid Stawiarz/Getty Images Entertainment/Getty Images
'Mindy Project' Baby Name Ideas That Mindy Kaling Should Definitely Consider
Mindy Lahiri — excuse me, Kaling — is reportedly pregnant with her first child. Given the obvious overlap between Kaling and her character from The Mindy Project, Lahiri, it's totally possible that Kaling might pull a little bit from the show itself, as far as baby decision-making goes. More specifically, if Kaling is stuck on baby name ideas, she can always look to her character's favorite people (or movies... or exes... or snacks) for a bit of fresh inspiration.
In Season 1, for example, Lahiri reveals her own top name picks, telling then-co-worker (and later S.O./her child's father) Danny Castellano: "I do want to have kids, four of them: Jaden, Madison, Brie, and the little one is Piper." So all of those could easily be in the running.
Those would work if Kaling's going for a posh vibe but, on the other hand, she could pick something a little less en vogue, something along the lines of, I don't know, Bearclaw, maybe? It would be after her affinity for the frosted pastry of course. Lahiri snacks religiously, so why not?
Cultural references also offer an opportunity for new namesakes. Lahiri's favorite character in The Princess Bride, for instance, is sword-slinging Inigo Montoya, and "Inigo Kaling" has a fantastic ring to it. But again, if she chooses to err on the side of traditional, "Joe" and "Kathleen" would do, inspired by Lahiri's love for the rom-com You've Got Mail. "Nora," as in Nora Ephron (the mastermind behind You've Got Mail, Sleepless In Seattle, and When Harry Met Sally) would be a pretty sweet homage as well, immortalizing Ephron's work with Kaling's new child. Nora Kaling? So perfect.
On The Mindy Project, Lahiri's baby is named Leo. It's sweet, it's simple, it's... nothing like naming your baby Beyoncé, which is something Lahiri would totally do. OK, OK, maybe that's too much; The world only needs one Bey.
Also, Lahiri shares Leo with her ex, Castellano. "Danny" is adorable, but naming a baby after a former lover feels a bit off. Maybe after a friend, then? Gwen and Morgan have proven themselves to be the most loyal.
Consulting Lahiri's character for baby naming would be so fun for fans, but how about Kaling's real-life partner? Does he have a say in this? As of now, the identity of said beau is under wraps. Still, he might have some thoughts to share — let's just hope he's a Mindy Project fan and a proponent of "Nora" or, at the very least, "Bearclaw."