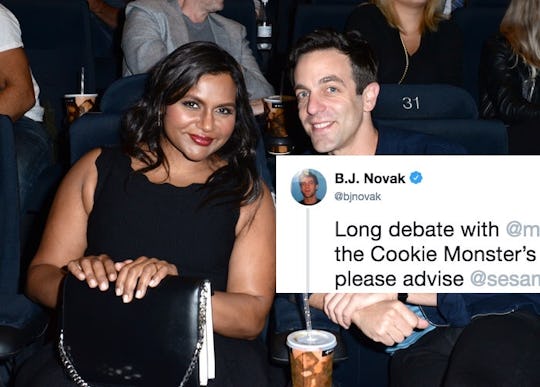 Vivien Killilea/Getty Images Entertainment/Getty Images
Mindy Kaling & B.J. Novak's Debate About Cookie Monster Is All You Need To Read Today
Mindy Kaling knows a little something-something about romantic comedies. As the creator of The Mindy Project, she had those of us who love a good rom-com covered. The "will they or won't they" aspect, the anticipation. The idea that a person can be best friends with the person they're meant to be with for years before finally falling in love. I suspect there might be a reason Kaling knows so much about romance and comedy. It's because she's living a full on rom-com in real life. For evidence, please grab a snack and study Kaling and B.J. Novak's latest Twitter exchange about Cookie Monster from Sesame Street. It's basically a rom-com in the making, and the most adorable thing I've seen other than the actual Cookie Monster himself.
As Kaling's fans probably already know, the two self-described "best friends" first met on the set of The Office when they played sparring couple Kelly Kapoor and Ryan Howard. While the two briefly dated for a time, according to PopSugar, they have since been pretty clear that they are not romantically involved. They promise, they're not dating.
Despite the fact that Kaling once described their friendship to TIME as "romantically charged with loud arguments." Despite the fact that Novak shared this sweet message when his friend starred in A Wrinkle In Time in March, telling her how proud he was of her and reportedly moving her to tears with the gesture, as noted by Us Weekly.
Despite all of this, they say they're just friends. OK... I guess this means we are only in the middle part of this particular rom-com, so we should just enjoy it. Which I'm sure fans will, especially if Kaling and Novak are going to be as adorable as they were on Twitter on Wednesday.
Apparently the two got into something of an argument about whether or not Cookie Monster might have a wife. Novak wrote that he thinks Cookie Monster does indeed have a wife, while Kaling pointed out (wisely, in my opinion) that he couldn't possibly have a wife since "his focus is entirely on cookies."
So here is what I'm wondering: Are the two friends watching Sesame Street together with Kaling's 11-month-old daughter Katherine? Is that why they are thinking about Cookie Monster? Whatever the reason for the debate, fans hilariously weighed in.
One fan pointed out that her husband is hugely focused on cookies... and he responded.
Others offered evidence that Cookie Monster probably does have a wife, citing the recent addition of vegetables to his diet and the lyrics to the classic song "C Is For Cookie."
After much debate, Novak shared a page from Street Gang by Michael Davis that does, indeed, reference Cookie Monster's wife. Just in passing, though.
As fascinating and important as this debate might be, the real draw here is the chemistry between Novak and Kaling. They'v proven yet again that they're easily one the cutest celebrity friendships to follow. What's the next debate going to be?