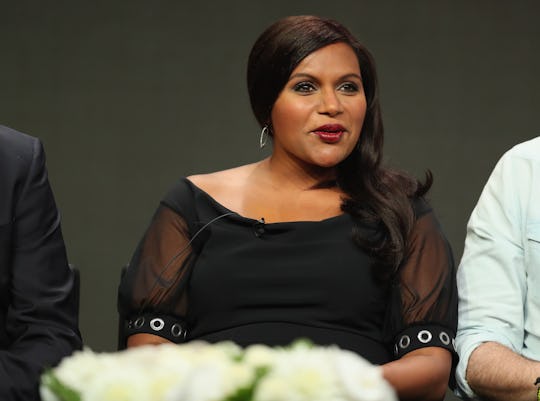 Joe Scarnici/Getty Images Entertainment/Getty Images
Mindy Kaling Calls Her Love Life Mysterious Proving She's The Most Expert Troll
Mindy Kaling has a way with words. Not only is Kaling a hilarious actress, she is the writer behind some of the best episodes of The Office and her own show, The Mindy Project. It is what Kaling says and doesn't say that shows she knows exactly what she is doing, especially when it comes to talking about her pregnancy (which has been shrouded in secrecy). In a new interview, Kaling called her love life mysterious which proves she is so trolling her fans with her words.
In the newest issue of American Way for American Airlines, Kaling deliberately chose to leave fans wondering all about her love life. Kaling (slightly) opened up to the magazine, saying, according to People:
My professional life is the only thing that I feel I have a lot of control over — romantic stuff is a little more mysterious. I think a lot of women respond to that.
For Kaling to say that is a little bit of an understatement, if only for how much of her pregnancy has been shrouded in secrecy — not that that is a bad thing. According to People, Kaling even refuses to tell her closest friends who the father of her child is. But at the same time, it really is not the business of anyone but Kaling to know who the father is.
Kaling's choice words about her love life is her way of kind of trolling fans. Especially those who know that the actress will keep things private for as long as she wants (probably forever).
Kaling's love life isn't the only thing that is a mystery to her — being a mother is, too. In August, after rumors about Kaling's pregnancy finally got unbearable, Kaling took to Today to confirm that she was indeed pregnant. But in the interview, Kaling admitted to Today anchor Willie Geist that she doesn't feel like motherhood is in her control. Kaling told Today, according to Entertainment Weekly:
It's so unknown to me. I have a lot of control over a lot of aspects in my life, and this is one where it's like, "Okay!" It's out of my hands which is kind of a fun feeling.
Like fans, even Oprah was shocked to hear the news that Kaling (her costar in the new film, A Wrinkle In Time) was expecting her first child when Kaling told Oprah five months into her pregnant. But in 2015, Kaling was dropping hints to InStyle, according to E! News, that her life would end up this way. "I don't have a particular urge to get married, but I do know with certainty that I want to have kids because my relationship with [my mom] was so special," Kaling said.
With everything she says (and doesn't say) about her love life and wanting to be a mom, Kaling continues to drive people wild with mystery. This new interview is no different.