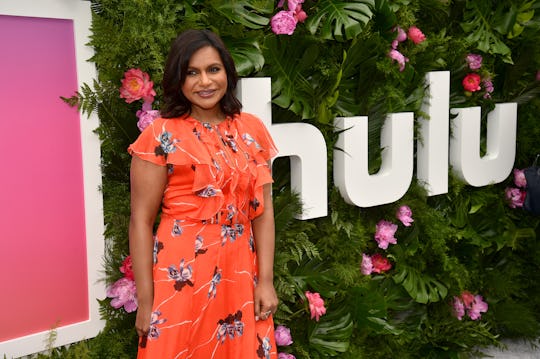 Bryan Bedder/Getty Images Entertainment/Getty Images
Mindy Kaling Should Never Reveal Her Baby's Father
When most female celebrities reveal their pregnancies, there are a few things we take for granted. We expect them to release candid photos of angelically snoozing newborns, sold exclusively to some glossy tabloid. We expect them to dispense some vaguely relatable quotes in the accompanying profile, something along the lines of "Boy, do I miss sleep!" or "So in love." And we expect one other person to be in the photos: the baby's father, hot, scruffy, and sleepy-eyed, lovingly gazing at his progeny.
In the case of 38-year-old Mindy Project star and creator Mindy Kaling, however, who is reportedly pregnant with her first child, there won't be a hunky, rumpled dad posing alongside her in the baby photos. That's because Kaling reportedly refuses to identify the father of her baby — and honestly, I kinda hope she never does.
Even in 2017, choosing to parent a child on your own is a transgressive act. That applies doubly if you are heterosexual and male, as soccer superstar and recent father of twins Cristiano Ronaldo is; when he announced the babies had been born via surrogate, the European media collectively lost their minds, with one outlet referring to his decision as "degrading and sad." (The only reason why no one in the U.S. cared is because no one in the U.S. gives a damn about soccer.)
Yet while single motherhood is both more common and more normalized in the United States, as opposed to single fatherhood, it is still highly stigmatized. If the mother is poor, she may be referred to as a slovenly and devious "welfare queen"; if she is wealthy and older, the pregnancy is often viewed as an act of desperation by a harridan who is too unattractive to be impregnated the "normal" way. But when a woman like Kaling, who seemingly has everything — wealth, talent, a successful career, an amazing wardrobe — chooses to have a child on her own, we simply don't know what to make of it.
Case in point: January Jones, who famously refused to reveal the father of her child Xander when she gave birth in 2011. For years, the internet hotly speculated over the identity of Jones's baby daddy, to the point where literal slideshows were created documenting potential candidates. People were baffled that someone as beautiful and successful as Jones, who has dated a slew of eligible Hollywood bachelors, would ever actually opt to raise a child on her own.
Jones, for her part, has remained mum, even though interviewers continue to pepper her with questions about Xander's father to this day. To hear her tell it, she has absolutely no regrets about not revealing Xander's paternity — in fact, she thinks her son and her are better off because of it. "I just don't feel I need a partner," she told Red Magazine earlier this year. "Do I want one? Maybe. But I don't feel unhappy or lonely."
Our culture still continues to insist that women are worthless if they can't procure one of two things: a baby or a man (though both are ideal).
Despite the advances our culture has made in terms of gender equality, we still continue to insist that women are worthless if they can't procure one of two things: a baby or a man (though both are ideal). To hear someone like Jones, who would otherwise be considered an atypical candidate for single motherhood, out-and-out declare that she doesn't need one to have the other is incredibly refreshing.
Now, Kaling is choosing to go down the same path. It will not be an easy one: she reportedly has not even told close friends who the baby's father is, although people on Twitter are already feverishly speculating that he is her ex and Office co-star B.J. Novak. But it's a necessary one — not just because she has a right to reveal whatever information she wants about her own body, whenever she wants to do so, but because it sets a precedent for women who have neither Kaling's nor Jones's privilege, who might want to make a similar decision of their own.