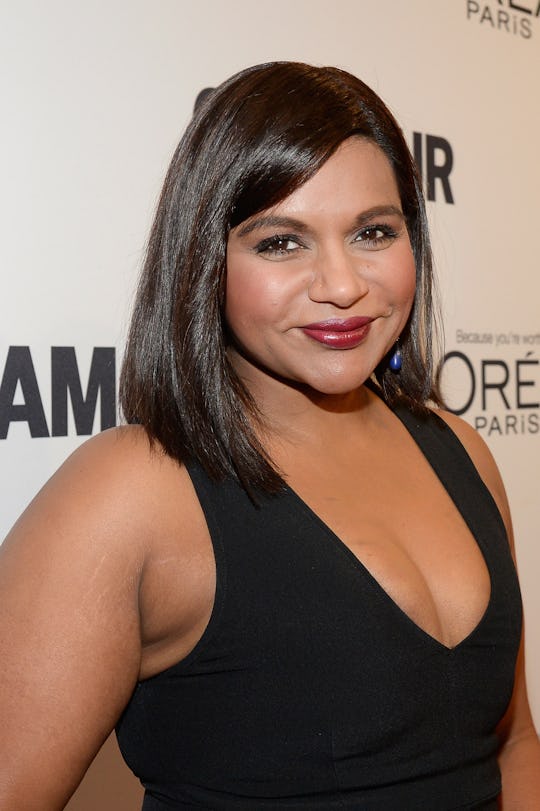 Kevork Djansezian/Getty Images Entertainment/Getty Images
Mindy Kaling Is Keeping Quiet About Her Baby's Father & It's Fine, Guys
There's something about Mindy Kaling that is just so likable, and now that she's reportedly going to be a mom, it's likely her awesome-factor will only rise. It's actually already happening. According to a source that spoke to People, Kaling isn't revealing who her baby's father is, which is entirely her right. It's also pretty bold, considering the culture surrounding celebrity moms and pretty much all of their choices.
The source told People that the 38-year-old actress and writer just recently started telling her friends that she was expecting, but that she reportedly hasn't revealed who the father is. "She is not telling anyone, not even close friends, who the father is," the source claimed. (And no, Kaling is not currently dating anyone, as far as we know.)
Which is no big deal or anyone's business really. Maybe she doesn't know which of her partners it is, since a paternity test can't be done until the end of the third trimester anyway. She also might not know for some other reason that shouldn't concern anyone else.
What's important to remember is that Kaling certainly isn't opposed to the whole "becoming a mom" thing, and has said as much in past interviews. So really, even if this was a "surprise" and she's not planning on revealing the father, it honestly doesn't matter.
Kaling told Yahoo! Style back in 2015:
I think I've decided that unlike everything else in my life, I'm going to be fast and loose about kids. I'm going to not actively plan, but if it happens, it would happen. I'm not cavalier about who I would have a kid with. But the thing I ask every parent that I really admire, the one comment they all have is that they wish they had kids earlier.
She also had no plans to get married. She said at the same time, "I admire [a good marriage] when I see it. I think it's a beautiful thing. In my 20s, and especially in my teens, I completely fetishized a wedding. But I think much less about marriage now. It's less interesting to me."
The idea of Kaling proudly making a choice to keep her life private, become a mom, and possibly parent alone is powerful — that's not an easy choice to make. On Monday, when her pregnancy was announced, many fans were hoping that it was with her co-star B.J. Novak, whom she has previously dated. It's hard not to hope, but the fact is, Kaling's baby doesn't need a father to raise it — she'll be a wonderful enough mother as is.
Hopefully Kaling is too busy having a Beyoncé-level celebration with friends and family about her good news to care what others think. She deserves it, after all.