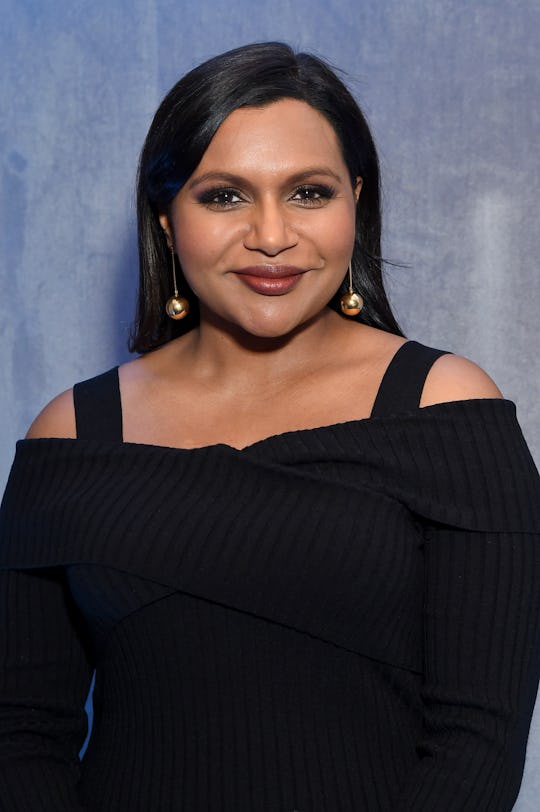 Mike Coppola/Getty Images Entertainment/Getty Images
Mindy Kaling Prepping Her Baby To Visit Oprah's House Is Peak Motherhood
Let's be honest: unless you've somehow been magically blessed with a baby that never loses it, going out in public with an infant is always a gamble — especially if you're going to an important event. Somehow, the fact that you're praying for things to go well means you're even more likely than usual to experience a giant poop blowout or a seemingly-unending crying jag, and even though we've all been there, it's still majorly stressful. But Mindy Kaling once brought her baby to Oprah's house for a screening of A Wrinkle In Time, and, well, even thinking about putting myself in her shoes in that moment makes me break out in a cold sweat.
On Monday's episode of The Ellen DeGeneres Show, Kaling spoke about her 6-month-old daughter, Katherine, and revealed that even though she's she's loving motherhood, she had "never been a kid person" before having one herself. And while that's not entirely unusual, it does seem to make her even more brave for agreeing to visit Oprah Winfrey's house with an infant in tow. Kaling explained that her A Wrinkle In Time co-star had organized a screening for the cast at her home, which she quipped was "the nicest home in America," but since Katherine was so young at the time, she had to bring her along. Naturally, Kaling said she was worried about bringing an infant into "Oprah's cathedral of beauty and art," but making things even worse was the fact that baby Katherine had actually been "really fussy" the whole day leading up to the event, including the car ride over.
At this point, pretty much any parent would probably be seriously reconsidering their decision to agree to attend. But since they'd already arrived, Kaling said there was only one thing left to do: beg and plead with her tiny baby to somehow get her act together. And miraculously, the pep talk actually worked. She said,
The minute we went in, I was like, 'Katherine, please. You have no idea how high the stakes are right now.' And we walked in the door and her eyes went wide, and she stopped crying. Like, she knew she was in Oprah's house. And then she was just coyly smiling and being adorable for the next four hours.
Kaling likely felt like she had just dodged a major parenting fiasco — and, well, she probably did — but DeGeneres pointed out that, actually, it might not have been the worst thing ever if Katherine hadn't settled down, noting, "if anybody's going to be OK with kids, it's going to be Oprah, because, you know, she loves children." Kaling agreed, and acknowledged that the talk show queen does have "a literal school for girls in South Africa." But it also seems fair to think that no matter how lovely Winfrey likely would have been, it still would have gone down as one of the most mortifying moments in Kaling's new-mom life.
What's at least slightly reassuring though? While Kaling might be one of an extremely select few who might actually know what it's like to bring your baby to Winfrey's house, pretty much every parent ever knows what it's like to be awkwardly trying to deal with a completely miserable baby in a social situation — and how it feels to desperately hope that somehow your kid will find it inside themselves to pull it together so that you can save face. And while it's not clear whether Katherine is just the most understanding baby of all time, or whether Winfrey's house has some kind of magical baby-soothing properties, it seems safe to say that Kaling got really lucky that day.
At the same time, inviting the new mom to bring her daughter along to the screening was far from the first time Winfrey had been supportive of Kaling as a mom. Not only was she so excited to learn about Kaling's pregnancy that she actually accidentally spilled the beans before Kaling had a chance to confirm the news, but after Katherine was born, she sent the most Oprah-esque baby gift that ever was: a hand-carved bookcase full of classic children's books, with "Katherine's Book Club" written on each one.
For someone who claims to not have been great with babies prior to motherhood though, it definitely sounds like Kaling had a major change of heart after giving birth. In March, the actress told People that having a child has made her much more sentimental than she ever was, and that she's trying as hard as she can to take tons of photos and commit as much about her daughter to memory as possible as she grows. And in those inevitable overwhelming mom moments? Kaling told the mag that Katherine "throws her a huge smile," and it's "the best part of her day."
In other words, it sounds like Kaling has motherhood down about as much as anyone possibly can, and that, even in the hard moments, she's figured out a way to take everything in stride. Then again, Katherine does sound like a pretty amazing baby. Because even if I were to ever muster up the courge to bring my infant to Oprah Winfrey's magnificient abode, I can almost guarantee it wouldn't go nearly as smoothly.