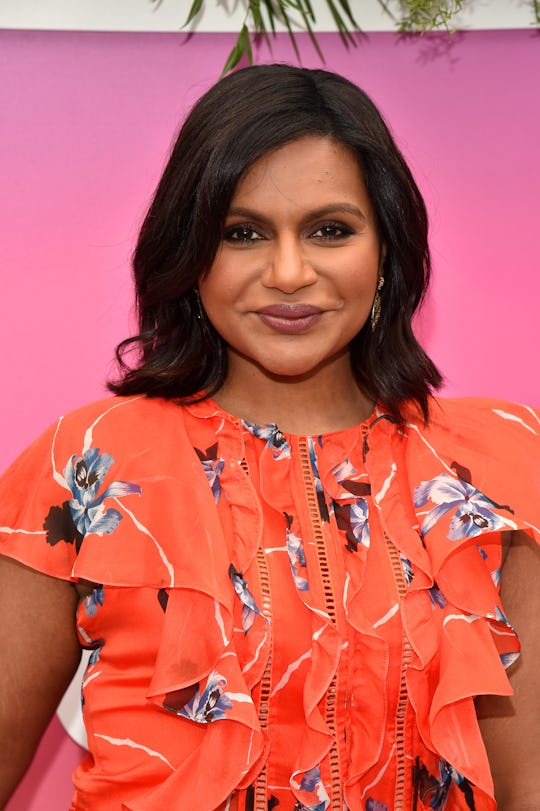 Bryan Bedder/Getty Images Entertainment/Getty Images
The Internet Is *Swooning* Over Mindy Kaling's First Photo Of Her Daughter's Wardrobe
I have struggled with my deep and abiding love of Mindy Kaling ever since her days as Kelly Kapoor on The Office. The first time she adorably chanted that "This day is bananas b-a-n-a-n-a-s," I was a goner. Like so many of her fans, I instantly felt a kinship with her that was only deepened once she created The Mindy Project. So you'll understand my joy, shared with women around the globe, when Kaling became a mom. Because now, we have even more in common. And if Kaling's first photo of her daughter's wardrobe is any indication, I'm also heavily into her kid's style. Yet another reason I believe we will eventually follow that yellow brick road toward best-friendship.
The 38-year-old writer and actress welcomed daughter Katherine Swati on Dec. 15, just in time for the holidays. Kaling named her daughter after her own mother, who sadly died of pancreatic cancer in 2012. News about Kaling's baby initially broke back in July, not that she was interested in discussing such a deeply personal event with the general public. In fact, Kaling has been decidedly reticent about sharing any information about her pregnancy, which everyone is totally cool with, of course.
Then she shared a picture of her daughter's tiny tracksuit, and the internet was like, Praise Mindy, she's letting us in!
Kaling shared the picture of the most adorable tiny Adidas tracksuit, emblazoned with what appear to be cats pumping iron, alongside some seriously amazing little runners. She captioned the photo:
Woke up this morning only to instantly die. Thanks @adidas for these! Do they come in adult sizes too? 😍 #swoon
Fans took her #swoon suggestion seriously and were sharing their adoring praise within minutes of Kaling's post. Instagram users wrote:
Holy crap on a stick my daughter needs this!
Omg 😍😭 soooo cuuuuute
This is so cute! It reminds me Arthur (pbs show).
So dope
Cutest outfit we've ever seen!
Essentially, most of the comments from the more than 11,000 people who liked this post within 15 minutes were along the same vein; this outfit is adorable and now I'm dead.
While some fans were mostly focused on the tiny, soon-to-be-iconic Adidas tracksuit, a few fans were just pumped to have Kaling share any little bit of her motherhood journey with them, as one fan wrote: "I'm in love w Mindy ever even commenting / mentioning her kid in any sense." Agreed.
The Wrinkle In Time star confirmed the pregnancy rumors on The Ellen DeGeneres Show back in August, but not before her co-star Oprah Winfrey let the cat out of the bag first. Not that Kaling was upset with her, on account of she is the actual Oprah, as she told DeGeneres:
She did announce it. If anyone is going to announce big news about your private life, Oprah Winfrey is the person. You can't complain that much about it. And you also can't be like, "Hey, Oprah, zip it" — because she's almost like a religious figure.
Kaling might not be sharing a whole lot of information (for instance, she has never confirmed the identity of her daughter's father... probably on account of it's nobody's business), she's been happy enough to talk about the kind of mom she wants to be. A fun mom, obviously, as she told Willie Geist on TODAY:
I'd like to be the fun mom. I know I'm gonna be the dorky mom. So it could be kind of fun too. I think that would be nice.
I don't think there's any doubt that she'll be a fun mom. That tracksuit alone, guys... if she shares a pic of her daughter wearing it, I don't know if my heart will be able to take it. But I'll try, just for Mindy Kaling.
Check out Romper's new video series, Romper's Doula Diaries:
Watch full episodes of Romper's Doula Diaries on Facebook Watch.