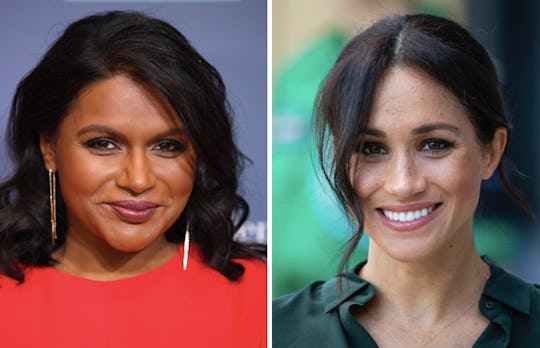 Dimitrios Kambouris/Getty Images Entertainment/Getty Images/ Dan Kitwood/Getty Images Entertainment/Getty Images
Mindy Kaling Wants Meghan Markle's Help With An Important Milestone For Baby Katherine
Mindy Kaling is headed to London and like any new parent, she's anxious to find her very own mom squad — a group of likeminded women she can hang with and some woman who can perhaps help throw a memorable first birthday party for her daughter. So who is Kaling's first pick for a friend? She chose none other than the Duchess of Sussex. Yep, Kaling joked that she wants Meghan Markle to help plan her daughter's first birthday party later this year, according to E! News. And I'd like to know, who's starting the petition to make this actually happen?
"So I'm moving to London, I'm gonna be completely friendless... Meghan Markle maybe wants to be in my life? Maybe she can throw the first birthday party for my daughter?" Kaling said in an interview with E! News.
So, what kind of party would Duchess Meghan throw for a 1-year-old? Her fashion is on point and her wedding was simply gorgeous, so it would obviously be something worthy of a tiny princess.
Kaling welcomed baby Katherine, whom she adorably calls Kit, in December of last year, according to People. During a press interview for A Wrinkle in Time, Oprah Winfrey let the secret slip, and then, Kaling publicly announced her pregnancy on The Ellen DeGeneres Show, according to USA Today.
Little Katherine is no stranger to international travel, as Kaling has been taking her everywhere she goes while filming and working.
So, why London? Kaling is the writer and producer of a series adaptation of Four Weddings and a Funeral slated for release on Hulu, according to Time Out. She's packing up her family and moving so she'll be centrally located during filming and post production, as Time Out explained.
For Kaling, motherhood has become a way of life, between doting on her baby girl in interviews and taking her Sunday nights to make her own baby food for Katherine. And in an recent interview with E! News, Kaling said:
The great thing about motherhood is that you always worry when you're pregnant, like, "Oh am I gonna be a good mother? I'm so busy and everything." But the great thing is, you live with this person, and they creep and seep into every aspect of your life, so it's almost impossible not to be a good mom because I'm always with my baby.
In other news, baby Katherine is finally talking. Kaling told People, "She started saying 'Mama.' Although she's kind of just saying like, 'Mama mama ma.' So I have decided to just take it personally and decide that she is saying 'Mama' to me. Although she says it to the lamp." Most parents can relate — a baby's first word is usually on repeat for a least a few months.
Kaling plans to keep making career decisions that fit her parenting lifestyle. "I've picked projects specifically that can suit this lifestyle. I have that luxury, I know not every mom does, and I wish that they did," Kaling said, according to ELLE.
As for her move to London, Katherine's first birthday party will undoubtedly be one to remember, at least for her mama. And with such a talented and funny mom at the helm, it's sure to go iff without a hitch — even if Markle never shows up. But let's all cross our fingers, OK?