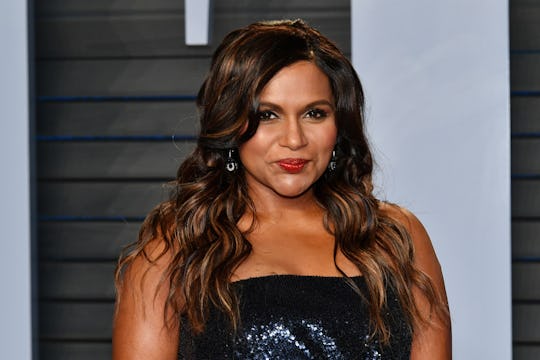 Dia Dipasupil/Getty Images Entertainment/Getty Images
Every Nursing Mom Will Relate To Mindy Kaling's Breastfeeding Quotes
I don't think I know a single person who's not in love with Mindy Kaling. The brainchild behind The Mindy Project is a smart, hilarious risk-taker who knows how to write punchy one-liners that also make you think. More so, Kaling is candid about her life and her new role as a mother, making her more so relatable to parents everywhere. Just check out Mindy Kaling's breastfeeding quotes. If you've ever nursed a child, there's a likely chance that you may have said one or more of these things yourself.
Kaling, who stars as jeweler Amita in the heist caper, Ocean's 8, hasn't shied away from opening up about her breastfeeding experience since giving birth to daughter Katherine Kaling on Dec. 15 of last year. The The Mindy Project creator has touched on everything from bonding with her little one during late night nursing sessions to feeling lonely while pumping during a workday. But no matter what Kaling has talked about, her quotes on breastfeeding have all contained relatable content. I know that, for me, her comments about being tethered to her house during the early days of nursing hit pretty close to home.
Need more? Here are four of her quotes that will make you go, "Same, Mindy, same."
Building That Bond
Any breastfeeding parent will tell you that there is a special bond you build with your newborn during your nursing sessions. And that's something Kaling understands deeply. The Mindy Project creator told Shape in an interview for its June cover story, according to E! News:
She is a really happy baby. When she was born, she was kind of skinny and anxious. I think she was like, Can this woman take care of me? But during our many breastfeeding sessions, we've gotten to know each other, and she's learned to trust me over time.
Personally, I loved all those nursing sessions with my son when he was a baby. For as frustrating as breastfeeding could be, those feeding moments were also peaceful, and helped me connect to my son in a deep way.
How Much Is That Owl In The Window?
This isn't a quote about breastfeeding directly, but it is sure as heck relatable. Kaling tweeted back in February, according to Health:
There's an owl hooting outside my window. It's not a hoot by the way, it's a 'hoo'. These are the kind of hilarious, middle-of-the-night observations you can expect from me now. #nursing.
Why is it so relatable? Because every nursing parent has been there. Up at 3 a.m., infant in your lap, sucking the teet as you're contemplating the meaning of life — and why the owl outside of your window won't shut up.
Inside These Four Walls
In the same interview for Shape, Kaling said:
I didn't realize how tethered to my house I would be as a new mom. I'd thought that I could bring the baby with me everywhere. I also couldn't quite believe that every three hours I needed to be home to feed her. I'd go on these little jaunts out of the house, and they'd feel like secret, illicit excursions. It was exciting, and it made my life seem kind of dramatic.
I was still attending grad school after I gave birth, so I wasn't able to breastfeed my son exclusively. I ended up supplementing with formula, which worked well. But, in the early days, when I was at home, I was stuck in my apartment. Nursing really does halt your life in a lot of ways. Eventually, you become very familiar with all the cracks in your walls.
Where Did You Go, My Lovely?
Honestly, I hated pumping. It was so time-consuming, and could be infuriating at times if you weren't able to get the milk you needed, the way you needed. It could also be kind of lonely when you're a working parent. I often found myself stuck in a back room with a sink and vending machine keeping me company. That's why the A Wrinkle In Time actor made me laugh-cry with this late February Instagram story, which Kaling captioned, according to Health:
The loneliest breast pump. That all day press junket new mom life.
Nursing is as hard as it is wonderful. And, sometimes, it can be lonely. Although Kaling often uses humor to talk about her breastfeeding experience, she's also refreshingly honest and vulnerable. Parents who breastfeed need to see more of that in media. The The Mindy Project creator has touched on everything from bonding with her little one to the lonely.