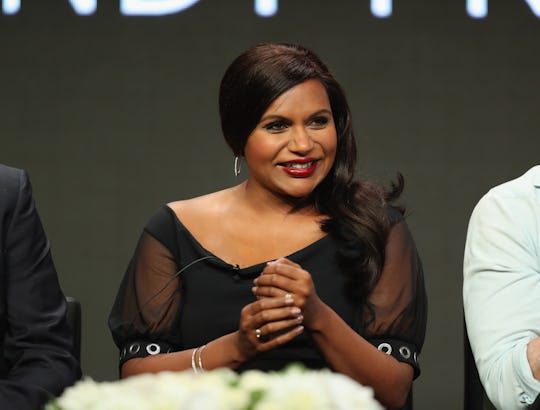 Joe Scarnici/Getty Images Entertainment/Getty Images
Mindy Kaling's Definition Of Motherhood Is Super Specific, But Also Perfect
I would say it's safe to say that not every mom out there is always 100 percent in love with parenting. Not every day, at least. Sometimes it's frustrating and disappointing and exhausting. But there are days when the stars align, when you're with this little person and they are the best thing in the world, and I wish I could explain how that feels. Fortunately, I guess I don't have to explain it. Because Mindy Kaling's definition of motherhood is weirdly specific and sort of perfect, to be honest.
The Office star welcomed baby girl Katherine Swati Kaling last December. The 10-month-old baby is Kaling's first child, and she's raising her as a single mom to boot — which I know from experience means things can get a little tricky sometimes. Kaling opened up about her fears raising a daughter on her own during a commencement speech at Dartmouth earlier this year, as per Elle. That being said, she seems to be figuring things out just fine, which should come as no surprise to fans of the multi-talented Kaling. This woman is always juggling several projects, from producing to writing to acting. And her most important project these days? As she told a fan on Twitter during a recent Q and A session, Kaling is getting a real kick out of being the CEO of her little family.
When a fan asked the Ocean's 8 actress what it's like being a mother, Kaling's response was surprisingly poignant.
The Mindy Project creator told fans that motherhood is:
Like being the head of a company that makes cool new tech and every time you come home your favorite employee shows you something really cool they've been working on.
Her fans were (mostly) in agreement on Twitter.
Kaling is one of those moms who appears to be utterly stoked about her role as a parent for the most part, and it could be a question of timing. As she told People in October, she thinks waiting until she was established in her career helps her find excellent work/life balance:
It's one of the nice things of having had my baby a little bit later in my career. I can be like, 'Hey, I want a little area that I can have my daughter play because I want to check up on her at work.' That is probably the biggest perk of my life: to involve my daughter so much in my career.
Beyond her excellent description of what motherhood can sometimes feel like, Kaling also took to Twitter to share some advice for parents eating in restaurants with their kids. A fan asked how much parents should clean up after their kids if they make a mess, and as an ex-waitress I can't tell you how much I appreciate Kaling's response. "I say, as much as you can with all available napkins and then a huge tip," the actress said.
Kaling's approach to motherhood, or the parts she is willing to share with her fans at least, seems to be all about appreciation, about contentment, and about finding the space in her life to truly just enjoy her little girl.
A great lesson as usual.