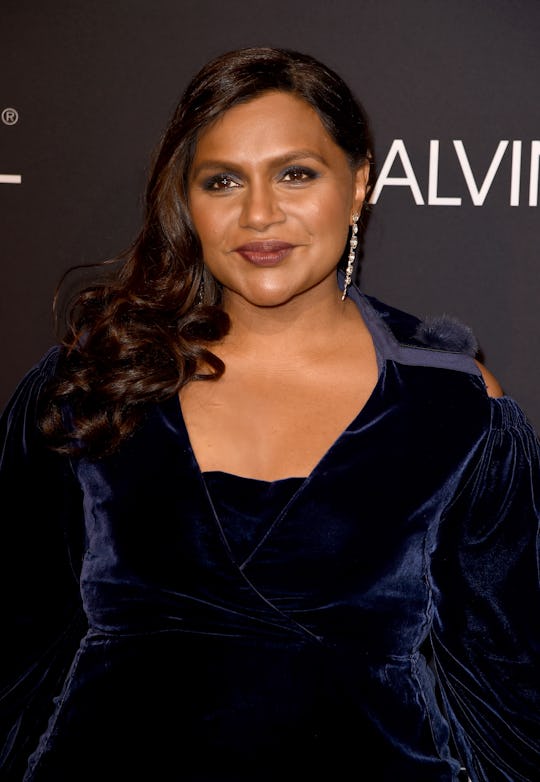 Kevin Winter/Getty Images Entertainment/Getty Images
Mindy Kaling's Funniest Quotes About Being A New Mom Will Have You Saying, "Yass!"
When I found out Mindy Kaling was going to be a mom, I was ridiculously excited. To be honest, though, it was for purely selfish reasons. Because Kaling's take on most things in life is so refreshingly honest and hilarious, I figured she'd bring the same kind of vibe with her as she embarked on her parenthood journey. I think it's safe to say at this point that I haven't been disappointed. And Mindy Kaling's funniest quotes about being a new mom will leave you saying, "Yasss!"
As People reported, Kaling welcomed her first child — a daughter named Katherine Swati Kaling — on Dec. 15, 2017. Although Kaling has made it a point to keep photos of Katherine off social media, the new mom has opened up quite a few times over the past 10 months or so about parenthood. Just two months after she gave birth, Kaling made her first red carpet appearance as a mom while attending the Los Angeles premiere of A Wrinkle In Time. When Entertainment Tonight inquired about her baby girl, she joked, "The baby's great. She sat this one out. But I'm going to show it to her when it comes out on DVD." Kaling continued:
What's the best thing my baby's been doing lately? Sleeping. That's nice. She doesn't love doing that — she loves not sleeping — but when she does, it's very fun... when I see her and I can get her to smile first thing in the morning? Oh my God, it's the best feeling.
Ahhh. That first five-hour stretch of sleep after bringing home a newborn is about as glorious as it gets.
The funny mom also shared her thoughts about the newborn days withToday's Hoda Kotb in April, including how hard it is to know if you're doing a good job as a new mom. There was "zero feedback except for crying for the longest time," Kaling said, according to E! News. "Then you start wondering, 'Does she care about me? Know about me besides that I'm a food source for her?" LOL. (But seriously, I felt this so hard as a new breastfeeding mom, too.)
Appearing on The Ellen DeGeneres Show in June, Kaling touched upon a pesky issue (but again, an all-too-common one for breastfeeding moms) she'd been continuing to deal with six months after her daughter was born. "The hardest part is when I was really pregnant — when I came to see you last — I was just eating whatever I wanted." Kaling continued:
Because when you're pregnant, you can just say it's like cravings. You're like, "I needed to have 11 cupcakes because of my pregnancy cravings." And everyone's like, "No, she's about to have a kid. Let her eat whatever she wants." But I haven't altered that, that much, since having the kid. So yeah. It's not normal to be not pregnant and have a birthday cake at Tuesday afternoon when it's not your birthday.
And all the breastfeeding moms shouted a collective, "Amen!"
During an appearance on The Late Show with Stephen Colbert in March, Kaling also opened up about how awkward she was around babies before becoming a mother herself, according to People. "It's really profound and strange. I was not a kid person at all," she told the host. "I was the person, if you had a baby at a party, I would go up to them and shake their hand and be like, 'Hello.' So I didn't know [or] understand how to be around babies." She continued:
I was on planes [and] when babies would cry, I would be mad at the families. Now I'm like, "Let them cry, let them do whatever they want. They can sit on me and poop if they want." Now I know more.
So yeah. Mindy Kaling certainly hasn't disappointed when it comes to her sharp-witted commentary on motherhood. I hope this funny mom continues sharing her parenthood musings as Katherine enters toddlerhood. Because as been-there-done-that parents know all too well, that's when it really starts to get interesting.