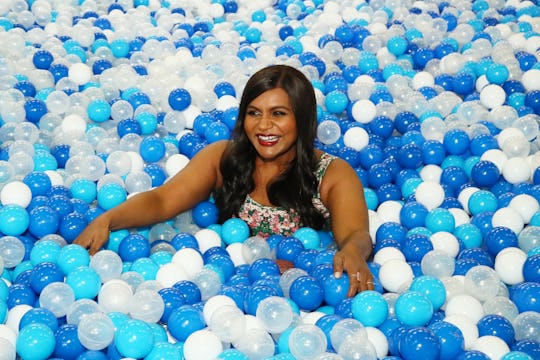 Astrid Stawiarz/Getty Images Entertainment/Getty Images
Mindy Kaling Revealed Which Baby Toy Keeps 9-Month-Old Katherine Thoroughly Entertained
Actress and author Mindy Kaling is so funny. The mom of one, who has starred in shows like The Office and The Mindy Project knows a thing or two about entertaining and making people laugh. But when it comes to Kaling's 9-month-old daughter, Katherine, it sounds like she's more entertained by her things than her mom. Take Mindy Kaling's jumper for her daughter, which she says keeps Katherine occupied for hours.
Because Kaling kept much of her pregnancy to herself, according to W, there's so much fans don't know about Katherine. Kaling has never released a photo of her daughter, according to TODAY, and doesn't give too many interviews where she gushes over motherhood. But, in a new interview with TODAY, Kaling did reveal that her daughter does have some particular likes and dislikes — she's a huge fan of pop-up books and her jumper. Kaling said her Graco Baby Bumper Jumper is a favorite for both mom and baby.
"She's obsessed with this bouncer thing that we hooked up the ceiling, she sits in it and bounces all day and she feels so powerful," Kaling told TODAY. "My kid is really energetic. She burns off so much energy doing it. It's fantastic."
Moms who have energetic babies are probably familiar with the struggle. But when there's work (and chores) to be done, sometimes babies have to be entertained (and have their energy released) by someone, or something, other than mom. This is where jumpers can seriously come to the rescue, just like Kaling's has for her and Katherine.
And moms looking to follow in Kaling's footsteps can easily purchase the jumper at any of their favorite retailers. Walmart sells the jumper for $37.77 with an option for free in store pick-up. Target is selling the jumper in a green and brown color scheme for $27.49 (what a steal). And for those who want to match the jumper to their home decor, Amazon sells the jumper in three different colors. There really are so many options to choose from for the spenders who love to weigh their options.
But this jumper isn't Katherine's only favorite product. In the same interview, Kaling told TODAY that her daughter is loving her SwimWays pool float because Katherine is currently learning how to swim and obsessed with Sandra Boynton pop up books (which she discovered after Oprah gifted her a shelf full of books).
Although Kaling is pretty reserved when it comes to talking about her daughter, when she does, her comments about motherhood are so relatable and helpful for other moms. Last week, for instance, Kaling told E! News that although she had her doubts about motherhood, she feels like it came naturally to her, explaining:
The great thing about motherhood is that you always worry when you're pregnant, like, "Oh am I gonna be a good mother? I'm so busy and everything." But the great thing is, you live with this person, and they creep and seep into every aspect of your life, so it's almost impossible not to be a good mom because I'm always with my baby.
And since little Katherine turns 1 year old this December, according to E! News, it's clear that Kaling is getting a hang of this whole motherhood thing. From her product recommendations to her super real comments on motherhood, Kaling always seems to get it right.