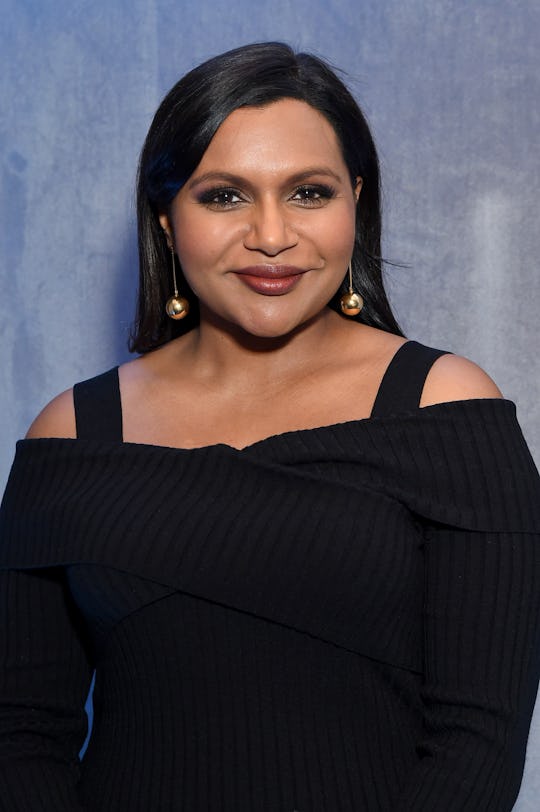 Mike Coppola/Getty Images Entertainment/Getty Images
Mindy Kaling Reveals What Makes Her Daughter Katherine Laugh & It's Just Too Cute
As hard as it might be to believe, a certain alum from The Office is about to have a 6-month-old daughter on her hands. Though she hasn't shared any photos of her baby girl, new mom Mindy Kaling has shared some updates on her daughter and her latest one is just about the cutest thing ever.
It seems like just yesterday that news of the star's pregnancy broke, when in fact, it was almost a year ago, on July 17, 2017, and then welcomed her daughter, Katherine Kaling, last December. In the last six months, Kaling has shared a few sweet stories about her little one and life as a mom. So when Kaling appeared on The Today Show on Thursday morning to promote her new film, Ocean's 8, it was certainly exciting to hear her reveal some new tidbits about life with Katherine.
After teasing the possibility of a The Office reunion, Today Show host Jenna Bush Hager told Kaling, "We have to talk about your babe," and Kaling smiled and nodded, clearly a proud parent.
"She doesn't talk right now, but she's actually starting to laugh and recognize me," Kaling responded. To that, host Hoda Kotb asked Kaling how she makes her daughter laugh. For Kaling, though, Katherine is the perfect audience. "She's such an easy laugh," she responded, continuing, "I just sing 'ABCDEFG' and I just sing that and she dies."
This little update was certainly a treat since Kaling hasn't revealed all too much about her daughter. Since giving birth last year, Kaling hasn't posted any photos of Katherine on social media, except for one shot of the baby in a stroller where only a peek of what looks like her arm is visible.
Kaling's decision not to share photos of Katherine is more than understandable. Luckily, though, the new mama has not shied away from talking about how her little girl is totally stealing her heart. For instance, as People reported, while she was on The Ellen DeGeneres Show, Kaling spoke about how she was extremely nervous to bring Katherine — who "was so little at the time" — over to Oprah Winfrey's house in the midst of filming A Wrinkle In Time. But, according to People, Kaling explained that her daughter was perfectly well-behaved:
The minute we went in, I was like, "Katherine, please, please. You have no idea how high the stakes are right now." And we walked into the door, and her eyes went wide and she stopped crying, like she knew she was in Oprah's house. And then she was just coyly smiling and being adorable for the next four hours.
Clearly even baby Katherine knows to be on her best behavior — and not embarrass her mom — when in the presence of Oprah.
But that's not all Kaling has revealed about her daughter. Speaking to The Today Show in April, the comedian spoke to Kotb about what it's like being a first-time mom and some of the challenges that come with it. "[I get] zero feedback except for crying for the longest time," Kaling explained of her daughter's verbal skills. "And then you start wondering, 'Does she care about me?' or know about me besides that I'm a food source for her?'"
And it definitely sounds like Kaling's daughter is already enjoying her mom's trademark humor. In her Thursday interview with The Today Show, Kaling revealed that she was happy her daughter was so easily amused. "I feel like I surround myself with people who never laugh at me," she said on The Today Show, continuing to say that it was nice to have someone who got her jokes, as basic as they are.
While Kaling may still technically be new to motherhood, she's clearly handling it quite well — giggling baby and all.