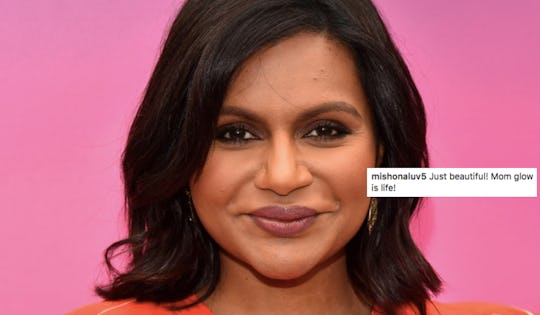 Bryan Bedder/Getty Images Entertainment/Getty Images
Moms Are *Loving* Mindy Kaling's "No Makeup" Mom's Night Out Photo
Sometimes getting a full face of makeup on is just not possible, especially when you're a busy new mom. Even though the no-makeup look is something more women are openly embracing when they just can't, it's still hard to be really confident without any contouring for some women. Which is probably why Mindy Kaling's "no makeup" mom's night out photo on Instagram is getting so much love from fellow moms and fans.
The picture is just Kaling in a cardigan leaning on a restaurant table, presumably taken by the friend she tagged in the caption, Julia Powell, an artist. It's a super simple shot, one that every single one of us probably has on their cell phone from the random nights out with friends. Mindy Kaling! Just like us!
People were surprised that the photo was of her, though, as she does look a little different without makeup and hanging with friends than she does say, on a red carpet with Oprah. But that's what made it empowering judging from some of the comments left on the picture, "You look SO different without makeup. But I also think you look MORE beautiful," one person wrote. Another added, "You are beautiful!! Radiant! Momin' looks good on you girl!" While another fan wrote, "You look tired but sooooooo happy and content. That new mother glow."
"Just beautiful! Mom glow is life!" another fan chimed in. One more added, "those mom night outs [sic] are everything!! Hope you enjoyed beautiful."
This isn't the first time that Kaling has shared a makeup free selfie to show that she's not always in a dressing room. Back in 2015, she posted a side-by-side pic of herself playing her character on the Mindy Project next to a pic of her looking like a "makeup-free vacation dirtbag." While calling oneself a "dirtbag" might not feel all that empowering, it's always nice to be reminded that what we see on TV screens and Instagram is all makeup and Photoshop, so we shouldn't stress about our own appearances, even though that can be hard to do sometimes.
Kaling just welcomed her daughter Katherine in December and has a new show, Champions, coming out in early March, so she really has a lot on her plate right now. Who has time for smokey eyes and lipstick when you're trying to squeeze in a dinner with friends?
Adam Pally, her Mindy Project co-star, told Us Weekly that she was adjusting well to motherhood so far. "I think she's ecstatic. She's doing good! She's happy and working, she has a show [Champions] coming out, which looks really funny."
Kaling kept her pregnancy and baby news pretty low key. In fact, it was Oprah who spilled the beans this summer while promoting their movie, A Wrinkle In Time. The comedian didn't seem bothered by Oprah's big mouth though, telling Ellen DeGeneres, according to People:
If anyone is going to announce big news about your private life, Oprah Winfrey is the person. You can't complain that much about it... So if there's one person I have to tell my daughter about that revealed her existence to the world, Oprah is pretty good.
It was the first time she dished a little bit about her experience becoming a mother, too. She told DeGeneres at the time, "I've had a pretty great time of [being pregnant] so far."
She added, "But I think I took a lot for granted before this, now that I'm my current situation — like, sitting. I'm obsessed with sitting. And even when I was standing back there I was looking at this chair and I was like: 'Can't wait to sit in that chair. That beautiful comfy chair.'"
Between her busy new mom life, her makeup-free selfies, and date nights with her besties, Mindy Kaling is officially the most relatable celeb mom out there.
Check out Romper's new video series, Bearing The Motherload, where disagreeing parents from different sides of an issue sit down with a mediator and talk about how to support (and not judge) each other's parenting perspectives. New episodes air Mondays on Facebook.