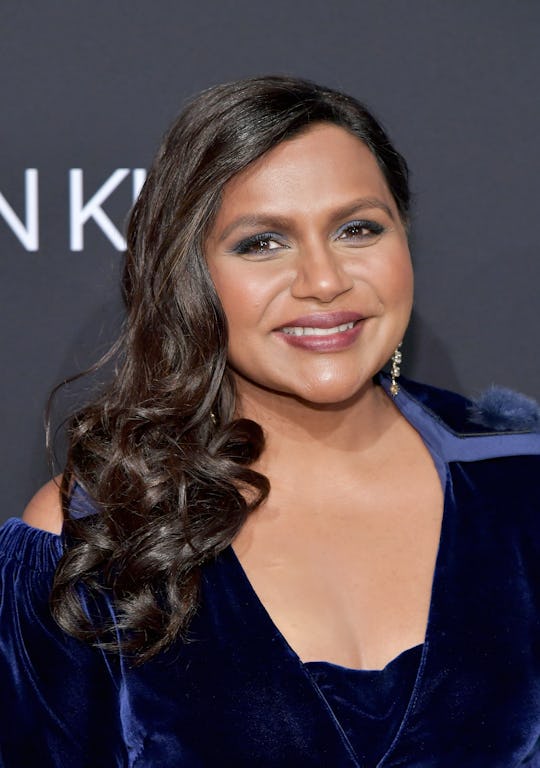 Neilson Barnard/Getty Images Entertainment/Getty Images
Mindy Kaling Posted The Cutest Thanksgiving Selfie With Her Daughter
It's pretty easy to adore Mindy Kaling. She's smart, hilarious, accomplished, and absolutely badass, and now that she's a mom, it seems pretty safe to assume she's probably the coolest parent around. Unfortunately for those who have been dying to get a glimpse into Kaling's private life with her daughter, Katherine though, she doesn't actually share photos of her little girl on social media. But on Thursday, Mindy Kaling's Thanksgiving post with her daughter marked the closest we've come to actually seeing to two of them together, according to Hello Giggles, and, as you can probably imagine, it was a totally heartfelt moment that left fans swooning in a major way.
In the post, Kaling shared a photo of herself sitting on a cream-colored carpet wearing dark jeans and pink Converse lace-ups, with Katherine sitting on her lap in a matching outfit and shoes. Though neither of their faces were visible in the pic (it was strictly a legs-only shot), it was still one seriously cute mom-and-daughter selfie from the adorable twosome. But if that weren't already enough, Kaling also topped it all off with a sweet caption, which read, "Thankful for her. Happy Thanksgiving," and it was actually a pretty surprising move from the actress, who clearly feels much more comfortable keeping details of her daughter's life private.
As much as the duo may currently be focused on celebrating Thanksgiving, it won't be long until they'll get to cross one majorly significant milestone off the list: Katherine's first birthday. Kaling gave birth to her daughter on Dec. 15, 2017, according to E! News, and though that now means that the protective mama has nearly gone an entire year without sharing a photo of her daughter's face with the world, she has at least seemed more than happy to talk about all the ways in which becoming a mother has changed her life.
Earlier in the year, for example, Kaling told TODAY's Hoda Kotb about how much she loved making her infant daughter laugh, and in an interview with Ellen DeGeneres, she even opened up taking a rather-fussy Katherine to Oprah Winfrey's house for a special screening of their film A Wrinkle In Time (miraculously, Katherine did her mom a huge solid before they arrived and was good as gold the entire time).
More recently though, Kaling opened up about what her life is like now that Katherine is approaching her first birthday, during an impromptu Q&A the actress held on Twitter during a bout of jet lag after arriving in London, according to The Daily Mail. For one, The Mindy Project star revealed that she'll actually still be in the UK for Katherine's birthday, and though she hasn't quite narrowed down any plans, she did at least have a few thoughts. When asked, what she'll be doing on the big day, Kaling replied, "I'm in London for it! Would love some tips! Birthday party in Hyde park? It's probably too cold but would love to take her to the Princess Diana fountain!"
It was her response to one follower's question about being a mom though that seemed to perfectly encapsulate why Kaling would pretty much make the greatest celeb mom BFF on earth. When asked "what's it like to be a mother," she summed it up perfectly in the unique way that only Mindy Kaling can: she said, "Like being the head of a company that makes cool new tech and every time you come home your favorite employee shows you something really cool they've been working on."
Although it definitely seems pretty safe to assume that Kaling's Instagram feed would be *beyond* adorable if she had, in fact, opted to share photos of her daughter with the world, I certainly can't blame her at all for wanting to protect her privacy. And hey, you never know, maybe she'll soon opt to share a special mom-and-baby first birthday selfie when Katherine's special day arrives.
This first-time mom wants to have a home birth, but is she ready? Watch how a doula supports a military mom who's determined to have a home birth in Episode One of Romper's Doula Diaries, Season Two, below. Visit Bustle Digital Group's YouTube page for the next three episodes, launching every Monday starting November 26.