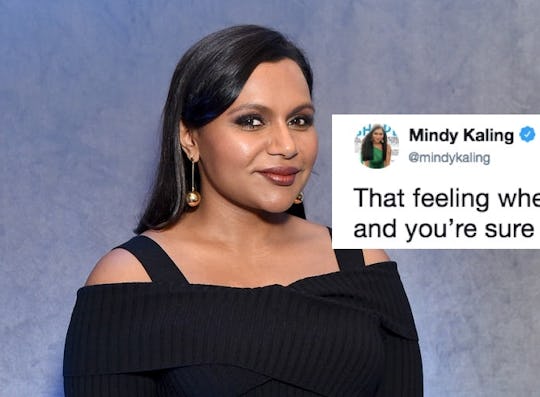 Mike Coppola/Getty Images Entertainment/Getty Images
Mindy Kaling's Tweet About Her Daughter Will Hit Home For So Many Working Moms
I wish Mindy Kaling had been around to guide me when I was trying to raise my sons and also have a little ambition for my own career at the same time. I needed her every day wisdom, her common sense... maybe even her permission to want the things I wanted while still being totally bananas for my kids. It was something I struggled with endlessly, the push-pull guilt of wanting to be a writer and wanting to be a mother and thinking I could never be both. Which is why Mindy Kaling's tweet about her daughter is so relatable for working moms. She knows what it's like to be career-driven and also baby-driven. The difference being, she's clearly nailing it.
The Ocean's 8 actress welcomed daughter Katherine Kaling on Dec. 15. Now if you're hoping to see pictures of her little girl, don't even try. The writer/actress/producer/wearer of amazing statement coats has been intensely careful about keeping her 5-month-old daughter out of the public eye. She has never publicly discussed who the baby's father might be, and that's because, really, it's none of our business. While she might not be willing to share pictures of her daughter, Kaling is absolutely OK with sharing how much joy her daughter brings her.
Especially if, say, she's working all day and comes home to find her daughter excited to see her.
Kaling tweeted on Wednesday:
That feeling when you come home from work and you're sure the baby is already asleep but she's awake and babbling and psyched to see you.
And of course she used a great meme from The Office to go along with it.
The Champions creator has a long history in Hollywood of being a seriously hard worker. She spoke last week about the sort of ideals she wants to instill in her daughter, and of course a good work ethic (along with a healthy dose of confidence) is on the top of her list, as she told TODAY:
Confidence is important and good — when it's married to hard work. If you feel like you have done hard work, it behooves you to be confident. You need to own it. I want her to be unafraid of owning that. It's a very unattractive quality to be entitled without doing the hard work.
If Kaling wants her daughter to grow up confident with a solid work ethic, she's doing a pretty amazing job of modeling what a strong woman at work looks like for her child. These days, the writer/actress is everywhere; giving the commencement speech at her Alma Mater, Dartmouth University, hitting the red carpet with the all-star (and mostly female) cast of Ocean's 8, promoting her new show Champions, and generally just living her absolute best life. All while raising little Katherine as a single mom. If that's not a role model for you, well I just don't know what you're expecting from life.
Plus let's not forget her coats.
While Kaling is clearly pulling this whole working single mom thing like a total pro, she still struggles with some insecurities like the rest of us. Especially when she first brought her daughter home and became painfully aware that she was, for all intents and purposes, raising her alone. She opened up about her experience during her commencement speech at Darmouth, saying according to People:
After my daughter was born in December, I remember bringing her home and being in my house with her for the first time and thinking, "Huh, according to movies and TV, this is traditionally the time when my mother and spouse are supposed to be here, sharing this experience with me."
Kaling's mother, Swati, died in 2012 from pancreatic cancer, according to The Los Angeles Times.
Regardless of how intimidating it certainly must have felt for Kaling in those early days, she figured it out. Because that's what moms do... figure their s**t out. Some days it can feel impossible trying to juggle kids and work and your own desire to be two places at once all the time.
Then there are days when you come home from a good day of work and your baby is just happy to see you. And life comes together.