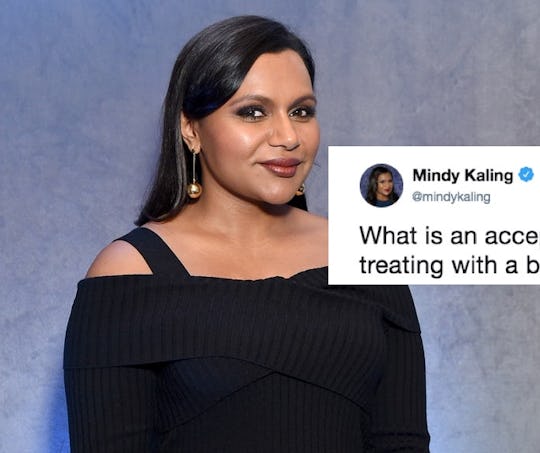 Mike Coppola/Getty Images Entertainment/Getty Images/ Mindy Kaling/ Twitter
Mindy Kaling Has A Very Important Question About Her First Halloween As A Mom
Mindy Kaling is a brilliant writer, director, actress, and activist. She has managed to completely create an entire career for herself where she chooses her own projects and sets her own pace, no small feat considering she works in the merciless entertainment industry. With a résumé like hers, one might think she was utterly unflappable. That nothing phases her. Wrong, guys. Mindy Kaling's tweet about trick-or-treating with baby Katherine is evidence that not even she inherently understands the intricacies of Halloween with babies. Because it's far more complicated than you may think.
The Mindy Project star gave birth to daughter Katherine Swati Kaling, named after her own late mother, on Dec. 15 of last year, according to Us Weekly. Meaning Katherine is now just over 10 months old, that age when any outing is a bit of a crap shoot. Because this is the time when babies tend to be a bit more mobile and a bit more opinionated, if memories of raising my own four sons serves me correctly, which makes leaving the house a gamble. Especially when you're planning on trick-or-treating. This involves possible costumes and some semblance of manners and strangers who might want to interact with your child.
In other words, Halloween with a baby requires the sort of planning nothing can prepare you for — not even a multi-layered career in the entertainment industry, apparently.
So here is what Kaling (and probably millions of other moms across the country) is trying to figure out via Twitter: What time is too early to go trick-or-treating? She was hoping people would feel comfortable with starting mid-afternoon but was apparently shot down by naysayers.
This is the age-old problem with trick-or-treating, especially with babies. Most people either aren't home from work or school or wherever yet in the middle of the afternoon, and those of us who work from home are definitely not ready to be welcoming trick-or-treaters at that point. If any trick-or-treaters came to my house right now they would get a panicked look and a handful of loose chips since I haven't picked up candy yet.
But on the flip side of that coin, babies in public have a shelf life. They get tired and irritable quick, usually without much warning. And trying to keep them happy until the regular trick-or-treating time, say around 6:30 or 7, isn't always realistic.
As many parents noted in response to Kaling's tweet.
Some thought this was way too early.
Still, some people were supportive and sympathetic with Kaling's plight. So supportive that one person even thought it would be a great idea for a Netflix special.
Another follower, Julianna Guill who appears to be a friend of Kaling, thought 2 p.m. was perfect. She even seemed to have the inside track on Katherine's possible costume, "a lion or a peacock."
Apparently the baby hated both costumes because they were "too hot on her skin," another issue for people trick-or-treating with babies. Those little people aren't willing to suffer discomfort for the sake of a good look.
In the end, I'm sure Kaling will figure it out. Just as the rest of us had to: trial and error and then more error and then defeat.
Happy Halloween!