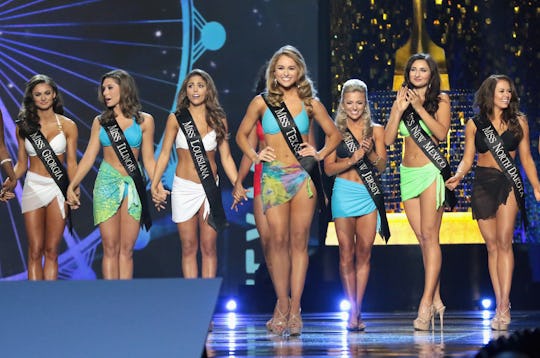 Donald Kravitz/Getty Images Entertainment/Getty Images
This Change To The Miss America Pageant Has *Everyone* Talking
Whether you love it or hate it, the Miss American Competition is kind of a big deal. Women representing all 50 states — plus the District of Columbia and Puerto Rico (and previously The Virgin Islands) — are vying for the crown. They compete in a number of categories, which includes private interviews, on-stage questions, a talent portion, an evening wear portion, and of course, the infamous swimsuit competition. Through the years, plenty of individuals and organizations have complained that contestants strutting around in a bikini does nothing but sexualize them. (Not to mention, it's shallow AF.) So I would imagine outspoken critics are jumping for joy right about now. That's because the Miss America swimsuit competition is no more — and seriously, it's about time.
On Tuesday, Miss America revealed that it would be scrapping the swimsuit portion of its competition, according to CNN. To mark this huge decision, the official Miss America Twitter account posted a video clip of a white bikini disappearing in a cloud of smoke. The words "Miss America 2.0 2019" appeared within the puff, instead. "We're changing out of our swimsuits and into a whole new era," the organization captioned the tweet, along with the hashtag #byebyebikini. And honestly? It's so empowering.
"This change in format signals the end of the swimsuit portion of the competition," the organization said, Today reported. "In its place, each candidate will participate in a live interactive session with the judges, where she will highlight her achievements and goals in life and how she will use her talents, passion, and ambition to perform the job of Miss America."
Not only will the swimsuit portion be a thing of the past for the Miss America competition — but so will the evening wear portion, Business Insider reported. In its place, the organization will give contestants "the freedom to outwardly express their self-confidence in evening attire of their choosing while discussing how they will advance their social impact initiative," according to a representative for Miss America. "We will no longer judge our candidates on their outward physical appearance. That's huge," said Gretchen Carlson, chairwoman of the Miss America board of directors, Tuesday on Good Morning America. Furthermore, the new and improved competition will be more inclusive to women of "all shapes and sizes."
Unsurprisingly, a good portion of reactions have been incredibly supportive. "Well let's just substitute in a pant suit competition," one Twitter user wrote, along with a GIF of Hillary Clinton rocking a rainbow of pant suits.
Another person tweeted, "I'm so ready to compete! I love the fact that we are allowing women of all sizes to now be judged based on their personalities."
Yet another supporter chimed in with, "More power to you! And more power to the women! Introducing the world to the best of the women who are working hard to make a difference in this country should be the essence of Miss America."
Still, some Twitter users seemed pretty pissed about the prospect. And is it a coincidence, or do they all seem to be dudes? Hmmm. Objectify women much? One critical Twitter user wrote, "If all you care about is what comes out of their mouths then just have an audio only TV show. Won't work will it, the bikini portion has been a staple forever. Not a good move."
Another Twitter user wrote, "And then everyone was less interested then they already were."
Yet another person tweeted, "This will also be the last year miss america is televised. Half ur viewers only watch for the swimsuit. If someone wants to watch a talent comp, there's America's got talent, the voice, american idol, all the dance shows & too many other shows to count."
Sorry, James Begley, but I have a feeling that even more people will be tuning into the Miss America competition this year specifically because they got rid of the swimsuit competition. And it will be female empowerment at its finest. This Twitter user gets it. "Jesus all the men upset that Miss America is no longer having the swimsuit portion really shows me in real time all the creeps out there who don't realize how much they have belittled the fact that women offer more than their looks," she wrote. "The world needs to stop diminishing women."
And this Twitter user nails it, too. "Sorry you're upset about the Miss America pageant getting rid of the swimsuit competition, my dude. I'm upset about thousands of years of female oppression, so I feel ya."
Personally, I could never bring myself to pay too much attention to the Miss America competition. Sure, the on-stage questions are interesting to follow. And many of the talents are so amazing/obscure that I couldn't look away. But watching women strut around half-naked on stage while their bodies are scrutinized from every angle? Just no.
However, I do plan on tuning into the next Miss America competition this coming fall. The Sept. 9 event will broadcast live on ABC from Atlantic City, New Jersey, CNN reported. And I — along with millions of other Americans who support feminism and not basing the worth of a person on their outward appearance — will totally be there for it.