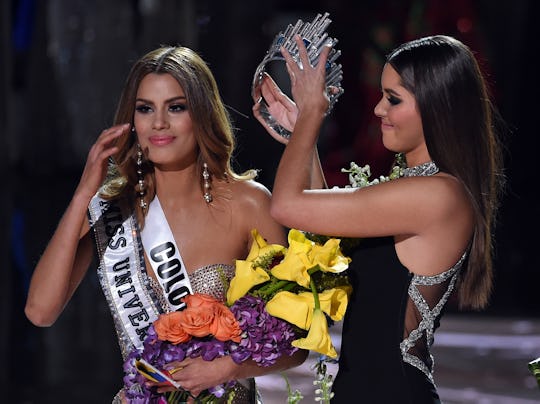 Ethan Miller/Getty
Miss Colombia Responds To Miss Universe Debacle On Instagram, But Not Everyone Is Feeling The Love
It has to be every pageant queen's worst nightmare: At the end of Sunday's Miss Universe 2015 competition, host Steve Harvey accidentally announced Miss Colombia Ariadna Gutiérrez Arévalo as the winner, only to clarify a few minutes later that he'd made a mistake and she was actually the first runner up. Now Miss Columbia has spoken out on Instagram, thanking her supporters for their "love, support and kindness," and telling them that "your destiny is written for you [and] my destiny was this," according to US Weekly. She also congratulated the Philippines, the home country of the actual winner, Pia Alonzo Wurtzbach.
Her comments on social media echo the sentiment of her first post-pageant interview backstage immediately following the show (no pressure!), when Gutiérrez Arévalo graciously accepted the loss, saying "everything happens for a reason."
Since the pageant, many people have expressed their frustration over Gutiérrez Arévalo's loss, including Colombian president Juan Manuel Santos and Colombian Counsul General to New York, Maria Isabel Nieto. Speaking to TMZ, Nieto said the loss could be emotionally traumatic for Miss Colombia. Some of Gutiérrez Arévalo's fellow contestants also took issue with the judges' decision, with Miss Germany Sarah-Lorraine Riek voicing her disappointment in an interview following the pageant, according to The Guardian:
I was so upset… I was very happy for Colombia actually she really deserved it and I'm really not happy with the result and neither are the other girls….None of us voted for the Philippines… I'm really not happy with the result.
(Riek's camp has since apologized on her behalf to Miss Philippines.)
But there's one person who definitely isn't a fan of Miss Colombia following her loss: Perez Hilton, who was a judge in Sunday's competition. During an appearance on Good Morning America Tuesday, Hilton took issue with another of Miss Colombia's Instagram posts where she wrote in Spanish that she was "forever your Miss Universe," arguing that "there's a reason — many reasons — why she didn't win":
Regardless of the controversy over the winner of the Miss Universe pageant or the comments that flew as a result, one thing is clear: Both Miss Colombia and Miss Philippines handled what was surely an incredibly upsetting night for both of them with an incredible amount of poise — and whatever your feelings on Miss Colombia (looking at you, Perez!), her grateful Instagram post is totally worthy of respect.
Images: Ethan Miller/Getty; gutierrezary/Instagram