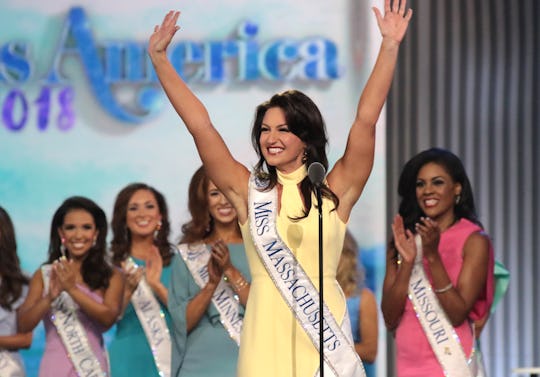 Donald Kravitz/Getty Images Entertainment/Getty Images
Miss Massachusetts Gives Back Her Crown After A Joke About The #MeToo Movement
I've heard jokes about the #MeToo movement more times than I care to admit. At a restaurant, when some men were making sexual advances at a very young server and then challenged her to defend herself by saying, Are you going to go all #MeToo on us? She didn't know what to do, because not challenging this sort of behavior is part of the social promise we've all been keeping. To be polite, to stay quiet. No longer. When Miss Massachusetts took an important stand by turning down her crown because of a #MeToo joke, it was more than a gesture. It was a sign of the way things simply need to be as we move forward in this world. Because these jokes aren't actually jokes... they're a subtle way of keeping women from calling out bad behavior.
Maude Gorman of Plymouth County, Massachusetts made her decision to take a stand after a tasteless (and frankly humorless) skit was performed at the Miss Massachusetts pageant earlier this month. During the skit, which was captured on video by The Observer, two presenters were apparently lamenting the end of the swimsuit competition for the Miss America pageant. The entire premise of the skit is based on a woman asking "God" why the swimsuit competition had to end. A man who is supposed to be God is carrying a #MeToo sign and says he wished he understood, too... crowd erupts in inexplicable laughter. According to Vox, the skit was unscripted and not approved by pageant officials.
Maude Gorman didn't find the joke funny at all.
Gorman took to Instagram last week to explain that she was resigning as Miss Plymouth County 2018 and giving back her crown. She told CNN that she is a sexual assault survivor herself, and that when she heard the skit from backstage she knew she had to do something:
I instantly knew I had to do something. It was going to eat away at me if I didn't... we were all shocked. We said, 'Oh my god. I cannot believe that just happened. Did that just really happen?'
As Gorman explained further in her Instagram post, she simply couldn't stand by and let this sort of behavior pass as though it didn't matter:
As both a survivor, and advocate for victims rights and sexual violence on a whole, I refuse to stand idly by and simply "let this go". Instead, I will stand up for every individual who has ever had the courage to speak out; and for every person who felt liberated by the #metoo movement.
In response to the criticism received on social media, the board of directors for the Miss Massachusetts pageant issued an apology and promised to "review all material" moving forward. As for the emcee behind the skit; Rich Allegretto took to the Miss Massachusetts Facebook on Monday with an apology (which sounded a whole lot like mansplaining that people just didn't "get" the joke to me, but whatever):
I would like to set the record straight about the skit I participated in during the Miss Massachusetts finals. First and most importantly, our sincere apologies to those who drew any parallels between a joke about the swimsuit competition and sexual assault. The skit was meant as a satirical poke at those who are upset that swimsuit is going away. It was intended to be a nod to the #MeToo movement, not a knock on it.
Here is what is so integral to the #MeToo movement; it needs to keep moving. Gain momentum. It can't stop in Hollywood or in politics or in pageant; the entire movement needs to empower everyday women with enough courage to consistently rise up against everyday sexism. To challenge the way many of us were taught to be polite, to stay quiet, to laugh along with the joke because it's only a joke. As if there was nothing more insidious beneath the surface.
As for Maude Gorman, she told CNN:
I am done with pageants. I don't see myself competing again. I am happy with leaving the pageant world behind me.
In other words, Gorman is going to miss out on important scholarship opportunities through the Miss America organization because she believes so strongly in defending the power of the #MeToo movement.
If that doesn't tell you everything you need to know right there, I don't know what will.