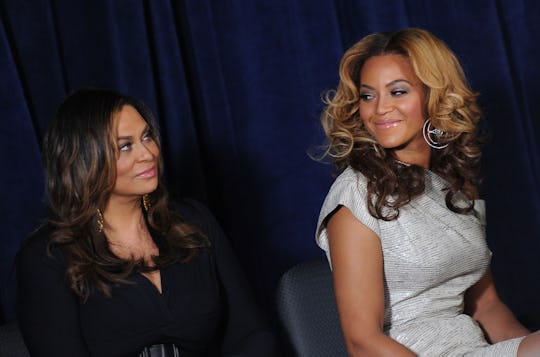 Jason Kempin/Getty Images Entertainment/Getty Images
Miss Tina Finally Reacts To The Birth Of Her Two Newest Grandkids
When Beyoncé announced that she was expecting twins, no one was more vocal or excited about it than the singer's mom, Tina Lawson (known lovingly by the Beyhive as "Miss Tina"). Although that might be a given, it has been clear over the past few months that Lawson is overjoyed by the prospect of new Knowles-Carter additions and more than ready to take on the challenge of spoiling two new grandbabies the way she did with big sister Blue Ivy. Though she didn't share her joy till a month after the twins were born, Miss Tina's reaction to the birth of Beyoncé's twins prove a grandmother's love is truly special.
A mother or maternal figure is one of the most important people a woman can have around when she's welcoming new additions into her home. Mothers and mother figures often have a wealth of knowledge from raising their own kids or an ability to provide a steady presence and familiar face which is invaluable. They're usually more than willing to help a new mom out, too, even if only to spend some more time with the little ones.
Miss Tina is no exception. The only difference? Lawson is something of a public figure and all, and when she shared her excitement publicly on Instagram, it was ooh'd and ahh'd by thousands of people.
Shortly after Beyoncé shared the first photo of her twins, Miss Tina shared the same photo on Instagram with a caption that read:
So Happy my baby shared a photo of her babies with the world ❤️❤️❤️proud grandma hello Sir Carter and Rumi Carter❤️🙏🏾❤️ Boy and girl what a blessing ❤️
The new grandmother of three (daughter Solange is mother to son Daniel) could not sound any more pleased about adding two more grandchildren to the mix. And Lawson is confident in her daughter's abilities, as she already thinks Beyoncé is a "really good mom" and has described her as a "really patient and kind" parent.
Previously, Lawson had been open about keeping fans up to date on how Beyoncé was feeling throughout her pregnancy. "She's doing great," Lawson told Entertainment Tonight about her daughter in late May. "She's just ready to — you know, she's ready to see her babies."
Lawson would know; Throughout her daughter's pregnancy, the mother-daughter duo were spotted attending parties and events together, remaining close every step of the way. Regardless, Lawson wasn't about to spill the beans on any juicy details about the twins themselves — mainly, the gender of Beyoncé's babies. Lawson told Extra that she had "no idea" about the babies' genders and would be happy with "whatever God gives me."
Lawson is more than happy to play the role of doting grandma, too. "Being a grandmother is the second best job in the world!" Lawson told People at a recent appearance (with being a mom being the best job). She added that she has no problem spoiling her grandchildren — because that's what grandmothers are for, right? "That's the fun part," Lawson said. "I buy them drum sets and noisy toys. I encourage them to ask for everything so I'm getting my kids back."
From the start, it was clear that Lawson was ready and excited to meet her two new grandchildren — her reaction to birth of Beyoncé's twins is just further proof of that.
Additional reporting by Leah Rocketto.