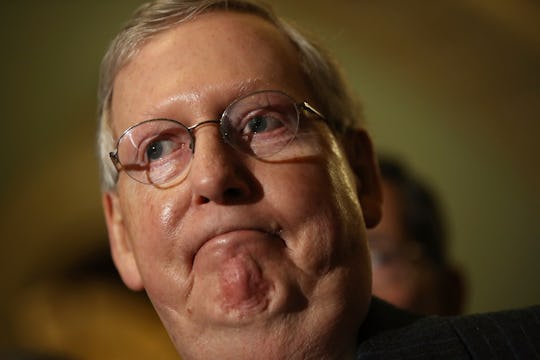 Win McNamee/Getty Images News/Getty Images
McConnell Is Just The Latest Accidental Feminist
On Tuesday night, the Senate voted to ban Sen. Elizabeth Warren from speaking on the floor during attorney general nominee Jeff Sessions' confirmation hearing, effectively silencing her opposition. Referring to a rule against impugning other senators, Sen. Mitch McConnell led a vote to bar Warren from speaking after she read aloud from a letter that opposed Sessions' past nomination to a federal judgeship in 1986. The phrase McConnell used to describe Warren's behavior on the floor, however, has since become a feminist rallying cry — and McConnell's Elizabeth Warren quote is just the latest Republican quote to become a feminist catchphrase.
McConnell's explanation for silencing Warren reads, at first, like an admonishment from a schoolteacher. "She was warned," he said on Tuesday night, according to Vox. "She was given an explanation. Nevertheless, she persisted."
Since then, "Nevertheless, she persisted," has become a feminist rallying cry, appearing beneath photos of women like Harriet Tubman, Rosa Parks, Malala Yousafzai, and Star Wars' Leia Organa on social media. The quote perfectly represents the persistence of women who defied rules that silenced them, who spoke out even when it was not easy, and who continued on despite the odds.
"Nevertheless, she persisted," is just the latest Republican quote to be taken back by women across the country, however. Here are a few more that are worth admiring.
Such A Nasty Woman
During a presidential debate against Democratic nominee Hillary Clinton, President Trump couldn't seem to resist interrupting Clinton, calling her "such a nasty woman." The interjection quickly became a rallying cry for women across the world, who have been using the phrase to describe intelligent, hardworking, strong women ever since. (The phrase has also been used to raise quite a bit of money for Planned Parenthood, too, in an ironic twist.)
Grab Her By The P---y
In a leaked Access Hollywood tape from 2005, that went viral during last year's vicious campaign, Trump was overheard telling then-host Billy Bush, of his alleged affairs with married women,
When you're a star they let you do it. You can do anything. Grab 'em by the p---y. You can do anything.
While women haven't used that exact phrasing to fight back, protest signs quickly began popping up that read, "This p---y grabs back," and "P--ies grab back." Let's also not forget the thousands of pink "p---y hats" that took over Washington, D.C. during the Women's March on Washington.
No Stamina
During a presidential debate in September, Trump said Clinton did not have a "presidential look" and that she lacked stamina — which many women took as a thinly veiled way of pointing out that Clinton is not a man. "She doesn't have the look," Trump said. "She doesn't have the stamina, I said she doesn't have the stamina, and I don't believe she does have the stamina."
After making a few jokes about Trump's debate performance and Viagra, feminists adopted "stamina" as one of the key ways to describe a "nasty woman." Even Clinton cashed in on the opportunity to fire back at Trump during the debate, saying, "As soon as he travels to 112 countries and negotiates a peace deal [and] a cease fire, he can talk to me about stamina."
They're all good rally cries — and they were all provided by people who didn't realize the hand their sexist words would play in supporting women. Here's to all the nasty women (with great stamina) who are ready to resist, persist, and grab back.