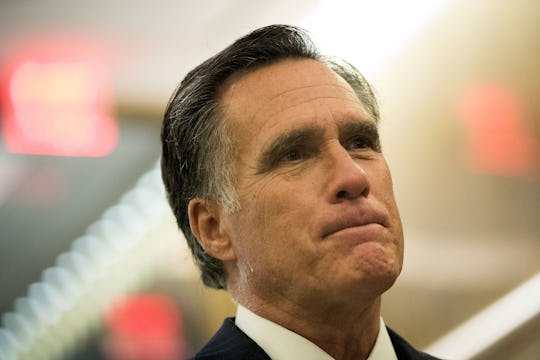 Drew Angerer/Getty Images News/Getty Images
Mitt Romney Out Of Secretary Of State Race After A Tumultuous Few Weeks
After several weeks of hearsay and rumors surrounding President-elect Donald Trump's most important Cabinet pick, Mitt Romney announced he was off the secretary of state shortlist via a perfunctory Facebook post. The move was not surprising, though the announcement coming from the former Massachusetts governor's personal Facebook page is atypical. Then again, many aspects of Romney's short-lived run for one of the most powerful jobs in the nation were atypical.
Update: According to ABC News, which cited transition team spokespersons, Trump himself reportedly called Romney to tell him he was no longer being considered for secretary of state.
"It was an honor to have been considered for Secretary of State of our great country," Romney wrote on Monday evening. "My discussions with President-elect Trump have been both enjoyable and enlightening. I have very high hopes that the new administration will lead the nation to greater strength, prosperity and peace."
The three-sentence concession came in Romney's signature voice: Both to-the-point and high-minded. Characterizing his meetings with Trump as "enjoyable and enlightening" is pleasant, yet rather vague. What's more, the ambivalence of the word "enlightening" leaves the nature of the two men's current relationship open to interpretation. Did Romney find the meetings "enlightening" because all of his worst fears about Trump were confirmed, or just the opposite?
Trump's decision comes after weeks of conjecture about the relative chances of Romney and the other top contender, ExxonMobil CEO Rex Tillerson. While the official announcement won't be made until Tuesday, Romney's exit appears to be a de-facto entrance for Tillerson.
Romney's consideration for secretary of state had been a widely-publicized affair, with media outlets frequently referring to Trump's meetings with Romney as a "courtship." Yet from the beginning, the courtship was fraught, shadowed as it was with Romney's past criticisms of Trump. In March, during the Republican primaries, Romney made a speech arguing that "If we Republicans choose Donald Trump as our nominee, the prospects for a safe and prosperous future are greatly diminished." As recently as October, Romney Tweeted about Trump, stating that the contents of the infamous Access Hollywood bus tape "corrupt America's face to the world."
Given Romney's past opposition to Trump, when news broke in late November that he was in the running for secretary of state, there was speculation about Trump's true intent. According to The New York Times, "some strategists argued that merely by reaching out to Mr. Romney, Mr. Trump was demonstrating an openness to new people and ideas." On the other hand, The Times suggested that Romney's appearance as a contender "may also have been intended to inject the sort of unpredictability and spectacle into the transition process that the president-elect thrives on."
Much of the opposition to Romney's possible pick came from Trump's supporters, who were enraged that Trump would even consider a person who wasn't loyal to the team. And then there have been the suggestions that Trump was merely leading Romney on as a form of retribution. Trump's long-time adviser Roger Stone was a guest on the popular conspiracy news program InfoWars this past weekend, and he stated that "Donald Trump was interviewing Mitt Romney for secretary of state in order to torture him. To toy with him. And given the history, that's completely understandable." Romper reached out to the Trump transition team for comment on Stone's allegation and is awaiting a response.
In appearing to select oil man Tillerson over Romney, Trump continues a pattern of selecting wealthy businessmen with no public service experience and deep conflicts of interest problems. On November 30, even before the preference for Tillerson became clear, The Washington Post reported that Trump's Cabinet will be the wealthiest in modern American history — by a lot. "Many of the Trump appointees were born wealthy, attended elite schools and went on to amass even larger fortunes as adults," The Post article observed. "As a group, they have much more experience funding political candidates than they do running government agencies."
According NBC News, Tillerson's net worth is over $150 million. If he joins the Cabinet, he will certainly fit in with the other millionaires.