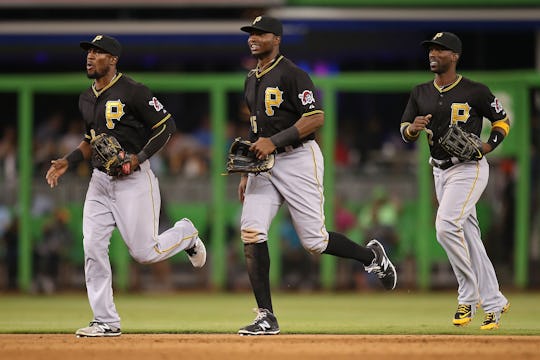 Rob Foldy/Getty Images Sport/Getty Images
MLB Moves Puerto Rico Games Over Zika Concerns
If the threat of Zika hasn't you spooked you yet, you're stronger than some Major League Baseball players. After the Centers for Disease Control briefed players on the threats of Zika and ways to protect themselves, the MLB moved Puerto Rico games over their Zika concerns. The Miami Marlins and the Pittsburgh Pirates were slated to play a two game series at the end of May in Puerto Rico. As of now, they'll find another location to play ball. According to CNN, it was the Pirates and the Players Association that had the most concerns. The league and the Player's Association reportedly tried to find some compromises that addressed those worries, but "despite extensive efforts, they were unable to develop a workable solution."
Pirates spokespeople said that they are "saddened by the circumstances in Puerto Rico and elsewhere that led to this decision." They added that they hope health institutions can quickly "eradicate the health risks that are regrettably affecting the Puerto Rican people" and that they look forward to playing in San Juan soon. It turned out that a lot of players were taking their family lives into account, given the CDC recommendations. Zika is known to cause microcephaly in infants and other birth defects if a woman is infected with Zika while pregnant. That was a risk too many players weren't going to take, although some think the players and the MLB might be overreacting.
Alejandro Garcia Padilla, the governor of Puerto Rico said that he was disappointed in the players' concerns and even tried to guilt them into not being like their "hero," Roberto Clemente, a Pirate's legend. "[Clemente] was a hero, contrary to those who say that because a mosquito —which is not going to do anything...they decided not to come," the governor added, noting that it always contributes to Puerto Rico's troubled economy when games are played in San Juan. "There is more likelihood of catching Zika in Miami than in Puerto Rico," he finished.
There have been 105 reported cases of Zika virus in Miami, but all of the cases have been travel related, according to the CDC, In Puerto Rico the instances of Zika have all been locally transmitted. Locally transmitted means that people contracted the virus there on the island, where the mosquitoes are apparently already living. There's a good getting chance a player or a fan could be bitten by a mosquito carrying the virus in Puerto Rico, according to officials.
Zika is also not just a worry for pregnant women, though they do face the most risk. Last week, a 70-year old man died from complications to Zika virus, the first reported cases where Zika has proven to be fatal, according to the CDC.
Canceling the games sends a strong message to health institutions and politicians that people's fears concerning the effects of Zika are very real. While it may seem extreme, it's good to know that the players were being briefed about the virus in the first place and able to make a decision about what they wanted to do. There is a travel advisory, after all.