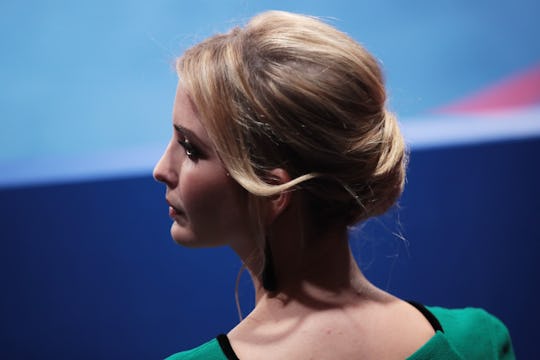 Scott Olson/Getty Images News/Getty Images
Mom Says Ivanka Trump's Company Didn't Offer Her Paid Maternity Leave
Parental leave has become a hot button issue during this year's presidential campaign between Donald Trump and Hillary Clinton, and rightfully so. Both candidates have recognized that offering parents the opportunity to have time off with their babies is a crucial step in child development, and both candidates have included a proposed new parental leave plan in their platforms. Republican candidate Donald Trump has outlined a plan to offer mothers six weeks of paid maternity leave, yet one mother who worked for daughter Ivanka Trump is claiming she was not offered maternity leave.
Marissa Veldez Kraxberger worked as the chief marketing and creative officer in 2015 and before that served as creative director for Ivanka Trump from 2013 to 2015, according to her Linkedin profile. Her job description read:
Responsible for determining the best way to visually present the Ivanka Trump brand vision, personality and voice across all customer touch points as well as internally. Drive the big picture creative strategy, aligning them to the business and brand objectives, and ensure this thread is woven through all initiatives from social media to digital campaigns.
While Kraxberger was obviously in a high-level, executive position at the company, she maintains that she had to fight to get any maternity leave.
Kraxberger wrote in a Facebook post on Monday:
I have tried to abstain from writing anything amidst this terrifying political brawl that relates to my past employer, but when I recently saw a commercial with Ivanka and her father and their "maternity leave" policy I felt like I was going to be ill. When I first interviewed with Ivanka I was 2 months pregnant, she called to offer me a job, which I was at the time very excited about, and when I asked about maternity leave she said she would have to think about it, that at Trump they don't offer maternity leave and that she went back to work just a week after having her first child. I somehow was dumb enough to accept the job after agreeing upon having the discussion further down the road about how we would handle the time after my baby was born. Our team--the ones who created #WomenWhoWork and the ones who the hashtag really stood for--fought long and hard to get her to finally agree to 8 weeks paid maternity leave.
A brand spokesperson for Ivanka Trump offered this statement to Romper in response to Kraxberger's claim:
The team at Ivanka Trump is saddened by this mischaracterization of how our company developed its industry leading culture and benefits package.
In addition to paid leave, we also offer all employees flexible work schedules and unlimited vacation and sick days. As a company for women, run by women, we spent a considerable amount of time in the early days of building our business developing a unique corporate culture and engaged in meaningful dialogue about the benefits that would be most impactful to the people working at Ivanka Trump.
While we respect differing political views from employees, past and present, we are steadfast in our belief that we have built a culture and a brand to be proud of and are deeply committed to supporting and empowering women.
Kraxberger, who now works as Vice President of Creative for Rag & Bone, went on to say that she doesn't think of Ivanka Trump as a "bad person":
I can see how it might be possible to go back to work after having a baby when you have a lot of help at home, I think she suffered by not staying home longer with her kids when she could have. I am however saying that if you truly support parenting and children then you actually have to support it fully... and that also means supporting maternity leave for adopted children and paternity leave as well. How can she claim that their maternity policy is a comprehensive solution for our country?
The federal government offers mothers 12 weeks of unpaid maternity leave at this point. Hillary Clinton wants to offer all parents 12 weeks of paid parental leave. Donald Trump wants to offer mothers six weeks of paid leave.