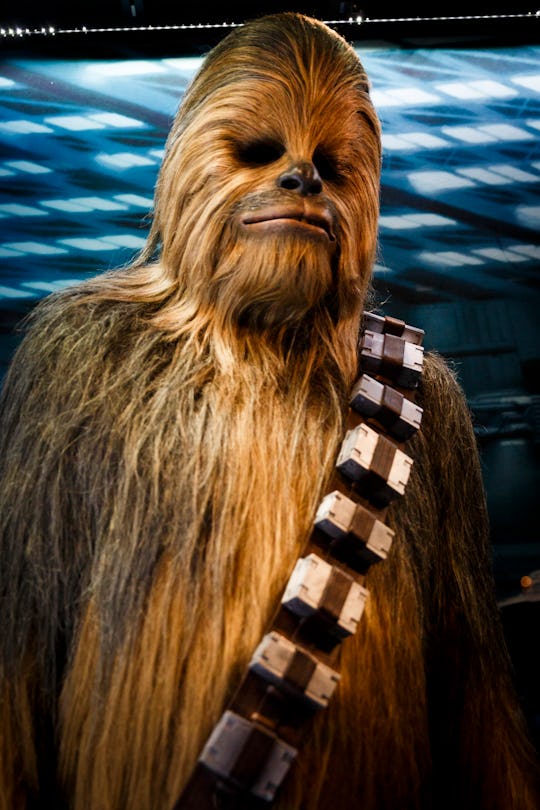 Tristan Fewings/Getty Images Entertainment/Getty Images
Wookie Gives Birth To Human Baby
As someone who has given birth four times, I'm basically an expert on birthing babies. And I can tell you from experience, there isn't much you can do to make the birthing process entertaining. One time I binge-watched Friends, but otherwise it was mostly whimpering and breathing and trying to find a comfortable position that would help me forget a human was trying to get out of me. But that was before Chewbacca masks were a thing. If I had seen this video of a mom wearing a Chewbacca mask during labor, I would have been all over it like white on rice.
Detroit mom Katie Stricker Curtis gave birth to son Jayden earlier in the week. Both mom and baby are healthy, which is lovely of course, but the big news here is that Curtis decided to wear one of those epic laughing Star Wars Chewbacca masks while she went through contractions. Instead of screaming and cursing her way through labor contractions, as so many of us have, she used the mask as a comedic foil. Every scream came out as a bit of Wookie laughter, making for one of the most entertaining labor videos I've ever seen.
When Curtis shared the video on her Facebook page, she wrote:
Just because I'm about to be a mom doesn't mean I have to grow up! Bwahahahahs never take life too seriously! Best Christmas gift ever! #havingababy #pregnancyhairgrowth
It was a great reminder that moms don't have to "grow up" to be moms. In fact, in my experience, you're way better off acting like a goofball than acting all mom-like and such.
The video of Curtis going through labor in her Chewbacca mask went viral, as these things often do. Because we internet folk appreciate that level of commitment to the cause, you know? Any woman who is willing to allow herself to be filmed not only as she gives birth, but gives birth to a human whilst looking like a Wookie... I mean, I'm ready to befriend this gal right now.
Some of you might remember another Chewbacca mom who had a little viral video. Grand Prairie, Texas mom Candace Payne became an overnight viral video sensation when she posted a video to her Facebook Live account of her new Chewbacca mask (she promised to share it with her kids but "at the end of the day, it doesn't go in their toy box. It goes in my room.")
Payne's video has been viewed millions of times. She went on the talk show circuit, was given a free trip to Disney World with her family, and Southwestern University in Florida offered Payne's kids $400,000 worth of scholarships. Which is all great, of course, but the real point? Sharing an easy, immature laugh with the world at large. Payne told Good Morning America:
In all honestly, I think the world as a whole is in need of a good laugh. I think we're in need of somebody to lift our spirits, to not take ourselves so seriously, and to maybe break some cynicism worldwide.
Nothing wrong with a little child-like enthusiasm, right? Especially when you're in labor.