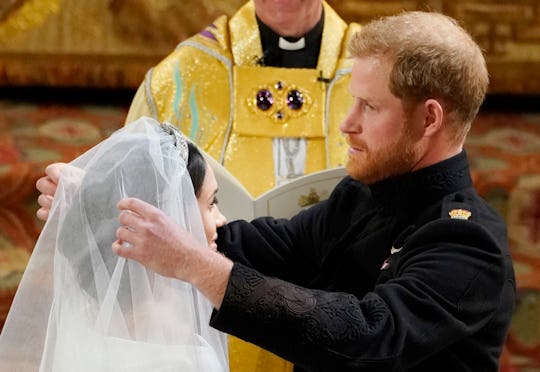 WPA Pool/Getty Images Entertainment/Getty Images
People Literally *Can't* Stop Talking About These Moments From The Royal Wedding
The royal wedding was more than just a beautiful tribute to British tradition and the monarchy — it was truly the loveliest wedding, loaded with sentimental meaning and the love of two people. There are seriously some sweet moments from the royal wedding that people can't stop talking about, and it goes beyond Meghan's dress or Harry's beard. (I know — you probably can't stop talking about that either.)
For some reason, I feel so much more sweetness exuding from this wedding than I did with even Prince William, Duke of Cambridge's wedding to Kate Middleton, Duchess of Cambridge. Maybe it's because the lead-up to this wedding was full of such untraditional moments (hello, Meghan's dad not showing up to walk her down the aisle) that it makes the perfect pieces of the day even better? I don't know, but I'm here for all of these sweet moments and will seriously relive them all day. It reminds me of my favorite moments from my own wedding, like when my daughter started picking up pine straw and passing it out to guests. Or when my husband straight up sobbed as I came down the aisle. Those are the parts that make up a wedding, and Harry and Meghan's celebration was full of similar moments.
The White Roses In The Chapel
It was known beforehand that roses, Princess Diana's favorite flower, would play a big part in the royal wedding, but seeing all of those flowers adorning the chapel was incredibly moving. Knowing that it was a tribute to Diana just makes it even more lovely.
The World's Most Excited Page Boy
OK, every page boy and flower girl is adorable, but there was one page boy that was most excited about his duties, and it was adorable. I've yet to find his exact name, but I will literally remember his smile forever.
When Prince Harry Whispered To Prince Charles At The End Of The Aisle
I'm no lip reading expert, but seeing Prince Charles meet Meghan halfway down the aisle to walk her to his son had me ready to see how Harry would address his dad. As usual, the prince did not disappoint. It looks like he whispered, "Thank you, Pop" to his dad as he took his bride's hand and I'm crying about it all over again. In the literal days leading up to this wedding, Meghan dealt with a lot of issues from her dad, so having Prince Charles be there to escort her down the aisle, and have Harry whisper such a sweet thing to his father, was truly beautiful.
Actually, All The Whispering Prince Harry Did
OK, there was another whisper heard (or read) around the world, and that's when Harry actually got to see his bride at the end of the aisle and whispered, "You look amazing. Absolutely gorgeous." This guy.
Harry Lifting Meghan's Veil
What a tender, romantic moment when Harry, who looked wonderfully nervous during the entire ceremony, reached over and slowly lifted Meghan's veil. Oh my heart.
The MLK Quote During The Address
The Most Reverend Michael Curry was named as the bishop to give the address during the royal wedding, which was exciting enough, but when Curry dropped a Martin Luther King Jr. quote in the middle of his speech, hearts fluttered. In fact, Curry stole the show, even noting "We gotta get y'all married" when he realized he had been talking for several minutes. His address was passionate and literally fiery, but it was also beautiful. Sharing such an important moment from MLK's speeches was just icing on the cake.
"Stand by Me"
If you tell me you didn't openly sob during the performance of "Stand by Me" at the royal wedding, I will absolutely not believe you. People reported that Harry and Meghan had chosen Karen Gibson and The Kingdom Choir to sing the 1961 hit, and it was so beautiful and such a lovely, modern break on tradition.
Meghan's Mom Getting So Emotional
I can only imagine how emotional it is to see your daughter get married, but to see her get married in a royal wedding to a literal prince has to be some new level of tears. Doria looked radiant and her sweet emotions to her daughter's wedding was almost too much to handle.
Charlotte's Enthusiastic Waving
You guys. Princess Charlotte waving goodbye to her Uncle Harry and now Auntie Meghan was the cutest thing in the world. Prince George waved as well, but there was something about Charlotte's enthusiastic wave that was just too precious for words.
The Sassy "Left Horse"
As Harry and Meghan left their wedding and headed to Windsor Castle, everyone quickly noticed the "left horse" in the carriage procession. The horse was, in a word, sassy, and it wasted no time giving its rider a heart attack as it veered in and out of the line, towards barricades, and basically all over the place.
While all weddings are lovely, especially royal weddings, this one of Meghan and Harry's was so uniquely them that it makes it seem so much sweeter than any tradition could ever be. I love how much they couldn't stop smiling, how happy they both seemed, and how everyone just seemed to glow.