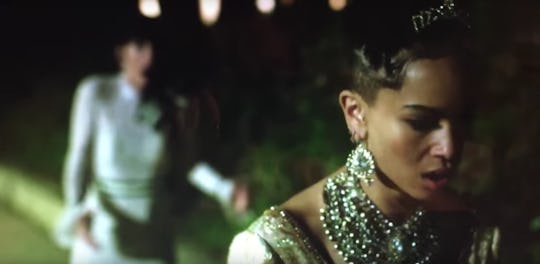 YouTube/Pacific Standard Blossom/David E. Kelley Productions
Moms, Your Village Is Here, & It's Yelling
"What do you women do when you get together?" The men ask. There are a lot of guesses — pillow fights, naked Instant-Pot cooking, witchcraft — but I'm not sure men realize the need for, or existence of, all-female discussions devoted to postpartum, to the pelvic bowl, to rage. Imagine if they knew, if someone came running down Fifth Avenue, breathless, "there's a room of angry women and they are yelling about their pelvises!" Terrifying.
"I'm not sure marriage as an institution is going to last!" Dr Kelly Brogan, MD, says to whoops from the crowd gathered for a night of discussion and readings about motherhood + mood. Hosted by pee-proof underwear company ICONundies and Earth + Sky Healing Arts, and streamed on Facebook Live, the "+" in "motherhood + mood" is a gentle way into the personal and collective experiences of a room full of women who have more birth knowledge than the majority of mothers. They are birth doulas, postpartum doulas, lactation consultants, postpartum fitness experts, or fans of former ESSENCE senior editor Kimberly Seals Allers, but even these women are unhappy with the state of things. They will take the knowledge and share it with their friends and fellow mamas, but for now it is a fringe topic for ~maternal health enthusiasts~ in an event space on the edge of Manhattan, near the Hudson River — that immense, powerful channel that seems still until you really look.
Other hands shoot up. 'I have a prolapse, too!' they are shouting out.
How are you feeling? This conversation is for you. An attempt to look at how the U.S. might support women better postpartum.
Fifty-two percent of women have a prolapse, explains Lindsey Vestal, a pelvic therapy specialist. "The pelvis is the fulcrum in the body, and the inner core controls what comes in and out." It is the site of birth injury and the site of emotional withholding. During the Q&A, a crowd member shares her heartbreaking story of prolapse — her post-birth "transition" included divorce — and Allers makes her way over to hug the mother, accompanied by a burst of applause and that telltale crinkling of foreheads and chins on faces tilted to look. The room draws closer.
"Does anyone else have a question?" Asks Allers. A hand shoots up. "Oh!" the hand laughs, "I thought you were asking who else has a prolapse!" Other hands shoot up. "I have a prolapse, too!" they are shouting out.
You've had these conversations with your mom friends, though you might not have gotten your hands on this information — information that speaks to race and class barriers to care, to the issues in a two-parent household, to the feelings of anger many mothers experience, even while looking their cherubic babies in the face. You might have heard of a pelvic-floor therapist if you had a problem that required it. Might have encountered a psychiatrist if you had an acute perinatal mood disorder. Might have found yourself speaking to a therapist like psychologist Dr. Venus Mahmoodi of the Seleni Institute when you were about to lose it. Might have enlisted a doula like Latham Thomas, the "Glow Maven," after deciding your first birth wasn't what you deserved. But it's unlikely you had these specialists built into your post-birth support system.
I have found my way to what I'm calling Pelvic Woodstock by way of author Molly Caro May's book Body Full Of Stars. She is headlining, has convened these women to continue the line of thought she started in her book that the emotional and the physical are connected.
It is A BOOK, in case you have not heard.
Childbirth is a lot to process emotionally. Think about your mom. I bet she has a horrific birth story or two she still brings up. Even an "easy" birth requires an incredible adjustment. And there is no structure in place to help with that.
When we think about anger, we are forced to think about who has been allowed to be angry.
"Two weeks later, the phone calls stop, nobody comes to visit, and there is no solid conversation around the value of motherhood," Thomas tells the crowd.
Diagnosing your "issues" postpartum is tricky, Brogan says, because the symptoms are cumulative from years of stress. "Are you B12 deficient? Are you in a toxic relationship? On a scientific level, the body exhibits the same response to spiritual issues" as biological problems, she says.
The point all these experts are hitting on is that looking always to the mechanics of birth — progressing from 1 centimeter dilation to 10 centimeters, passing the baby and placenta and being "finished" — ignores a realm of spiritual and emotional change (hormonal and otherwise) taking place.
"No one tells you labor doesn't stop," May writes in her book.
"Birth is not mechanized. Birth is wild, our bodies are wild," says Thomas.
This is how the room makes its way to rage. "And when we think about anger, we are forced to think about who has been allowed to be angry," she says. Not women. Not Black women. The crowd is excited. It claps and hoots and yells.
"im yelling" or "IM YELLING" has become a meme of sorts, a response that makes anger funny, defuses the angry woman into a bolt of enthusiasm.
Angry women are having a moment. #MeToo has put an arrowhead on the current wave of feminism, and the collective action has made it more acceptable for women to yell, be mad, rage. But we are still very afraid of angry mothers. When we think of postpartum depression, we think of "a crying woman in the corner," says Mahmood — and miss other symptoms, like rage, that are telling us something is wrong. These are barriers to treatment.
Discussing all this stuff in a hip event space is fun. There is wine, there is cantaloupe, but these are life-changing issues. "On the other side [of birth], there is no one to swaddle you," says Brogan. "There is such a gap" in care, agrees Vestal.
The panelists instruct the women in attendance to go home and share their knowledge, advocate for a better postpartum care system, and to simply give other mothers language and space to talk about their experiences.
Ask "how are you feeling today?" Vestal says, "and keep asking it."
Check out Romper's new video series, Romper's Doula Diaries:
Watch full episodes of Romper's Doula Diaries on Facebook Watch.