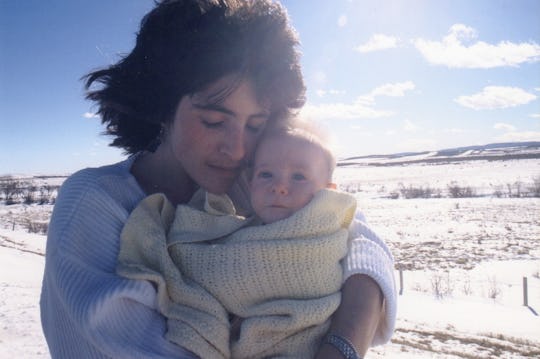 Photo courtesy of Jen Redford
This Book Makes A Case For Motherhood In The Outdoors
"I knew my muscles would reappear — I'd reappear — if I could just get back to work."
For Jan Redford, the Canadian climber and author of End Of The Rope: Mountains, Marriage, And Motherhood, getting back on the wall, back out into the bush, after having a baby was essential. When she writes of returning to her work in forestry, of the shared female experience of expressing breastmilk into "logging slash," the clean, bright air and the feeling of hope rushes out and around you.
"We wanted to be out in the field tromping around getting exercise, because we'd have to go home and look after our children," Redford tells Romper by phone of her days with the women of silviculture (growing trees) in early motherhood. "We [were] in the truck four-wheel-driving through the bush, gabbing about our children and sh*t-head husbands." At home, friends wet-nursed her baby in a pinch, and her desire to get out and climb was trumped by her husband's need to bag summits (today, she says of their power dynamic, "I don't think he believed it existed").
The book... feeds into a growing concern about the ways we have cut women off from nature; from spidering up a granite cliff in a climbing harness, from hiking as they heal from birth.
Redford's memoir follows her climbing career from her days following (and sometimes leading) the men of Yosemite, to the death of her beloved boyfriend Dan in an avalanche, to a pregnancy, fraught partnership, and leap into motherhood in the immediate aftermath.
The book has resonated with men as well as women — Redford says she has been seeing lots of men at her book events — but makes a powerful case for motherhood in the outdoors and feeds into a growing concern about the ways we have cut women off from nature; from spidering up a granite cliff in a climbing harness, from hiking as they heal from birth.
She shares some of these concerns with author Molly Caro May, whose memoir Body Full Of Stars: Female Rage And My Passage Into Motherhood came out earlier this year, and who told Romper, "I can't imagine being in a place where I wasn't able to stretch my body out on the grass or go into the woods and be alone." May's book draws a line from a woman's physical movement to her emotional health postpartum. "If a woman doesn't get to be out by herself occasionally, it's hard to connect to that body, because we are an animal body," she said at the time.
When I had a baby, I wanted to walk, to be outside. The Ergo carrier was a blessing — I could get out in the wind and hike a mountain again. Of course I also worried about falling and crushing my baby in a freak baby-sling-breastfeed-hiking-accident. There aren't no risks involved in getting out there.
But we don't tend to encourage new mothers to get outside. We give them Boppies and car capsules and baby monitors. We tell them to "take it easy" for six weeks.
For Olympic champion cross-country skier Kikkan Randall, the advice was the same. She told Romper in February that she injured her back just carrying her baby around, because her core had disintegrated in the absence of exercises to help her recover strength postpartum.
It's not like I'd found Jenna under a fucking cabbage patch. She'd been ripped out of me, and no one was lining up to interview me on CBC.
In Redford's story, the outdoors is restorative, and a source of knowledge. The rock face reveals her weaknesses, her thought process, the changes in her body. In her first lead climb as a mother, a friend goads her to hurry up as the climb is *only* a 5.8 grade. "I can die just as easily on 5.8 as 5.10!" She fires back.
The view from up there changes. Our kids change us.
"The shift was happening a little bit before kids, but seemed solidified after my daughter," Redford says of the way she approached risk after becoming a mother. "My marriage was so unhappy that I didn't want to leave [Redford's daughter] in the family that I had married into," although she notes her husband "would have been a great dad if anything would have happened to me."
More so, her instinct about where the edge lay became better honed. "I'd already developed a fear of death," Redford says, recalling moments leading a pitch when her daughter Jenna would "dance in front of my eyes literally" down below.
Redford positions motherhood as equal to and adjacent the accomplishments of men on the world's tallest and most dangerous peaks. After her husband returns from a Pakistani expedition and is being interviewed by the Canadian Broadcasting Commission, she writes, "They'd suffered up there, I knew that, but it's not like I'd found Jenna under a fucking cabbage patch. She'd been ripped out of me, and no one was lining up to interview me on CBC."
Motherhood, she argues, is an expedition. And it's a theme mothers keep picking up on.
"This foot, that foot. I'm pretending I understand what's real and what's not," says a pregnant creation of Samantha Hunt in Mr. Switchfoot as she treks on and on toward birth. "I won't go back to what I was before I started walking."
I think we're left almost floating when they [go].
The outdoors often seem diametrically opposed to motherhood. "It's not about women being fit enough or strong enough or not having the right academic background," ski guide Shannon Werner, 38, told Outside Magazine in an exploration of why female outdoors professionals put off starting a family. "I know motherhood is possible, but for me personally at this point in my career, I have to be strategic and plan it."
On the other side of things, End Of The Rope is punctuated at regular intervals by loss — a husband lost in a fall here, a boyfriend buried in an avalance here, someone's friend, someone's de facto. For the wives, partners, and mothers left behind, it is one more slice that threatens to cut them off from the outdoors.
"I think we're left almost floating when they [go] because we want to be a part of the climbing community," Redford tells me, explaining that her decision to bunk down with a fellow climber soon after her boyfriend's death is a common scene.
Redford's story — her grown daughter is also an avid climber — is proof that women need to be supported in getting outside. The most difficult parts of the memoir involve her being left to watch her children in remote logging towns. Her empowerment as a climber and adventurer is crucial in helping her to identify and leave a toxic marriage. There, the reader makes a natural leap to that other feminist memoir involving a woman battling her demons out on the trail, Wild.
"Fear, to a great extent, is born of a story we tell ourselves, and so I chose to tell myself a different story from the one women are told," wrote Cheryl Strayed. "I decided I was safe. I was strong. I was brave. Nothing could vanquish me."
Redford's story, too, is one about overcoming her own thought patterns. She plots the domestic scenes with her dominating ex-husband slowly and carefully, demonstrating the way she would move from one piece of protection (to use a climbing term) to another. Eventually, she solves the puzzle of how to get to the next hold, leaving her husband, finishing her education, and, eventually, becoming a writer capable of telling her story in a cracking memoir.
End Of The Rope: Mountains, Marriage, And Motherhood by Jan Redford, $32, Amazon
Maternity leave was an opportunity for me to stroll around the park a lot, baby on chest, and reconsider what I was doing, how I felt in my body, and what I was good for. Walking seemed like a natural way to unfurl all the thoughts I had as I radically rewired my brain. It's an essential but overlooked part of our postpartum adjustment, and Redford shows this on a larger scale.
"I've been able to pinpoint a lot of patterns in my life that have been passed down from my mother and my grandmother and my great-grandmother," Redford tells me. The hope in writing the book is that she has saved herself from passing along those "demons" to her own daughter.
And in researching her family history, Redford discovered something a little incredible: her grandmother had been a climber. Redford's grandmother appears in a photo at the foot of Canada's Mt. Robson in 1913 with the Canadian Alpine Club. She had worked in the Yukon, attended med school, and then withdrawn when she got married — another woman headed indoors to raise a family.
For Redford, it was a revelation. "I had never figured out why I was climbing."
The final piece is that women can and must be out there together.
"There were so few of us while we were climbing," says Redford of climbing in the '80s, "and then of course the whole world of child-rearing was very female dominated."
Though Redford dates a few different rock climbers before motherhood comes along, one of the most impressive characters in the book, other than Redford herself, is a female climber and friend, Niccy, who is with Redford for longer than any of her romantic interests.
The outdoors might be a male-dominated space, but, says Redford, "My women saved me."
Check out Romper's new video series, Bearing The Motherload, where disagreeing parents from different sides of an issue sit down with a mediator and talk about how to support (and not judge) each other's parenting perspectives. New episodes air Mondays on Facebook.