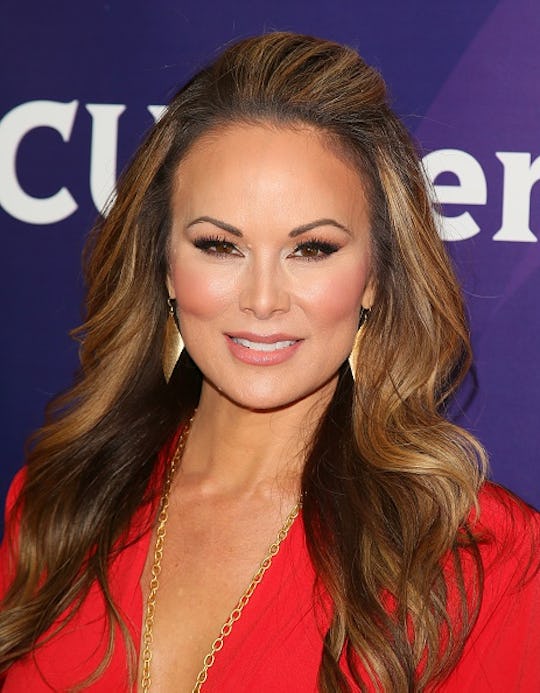 JB Lacroix/Getty
Music Videos Of Tiffany Hendra's Husband From 'Real Housewives' Prove He Can Rock
In the debut episode of the Real Housewives of Dallas, Tiffany Hendra's Australian rocker husband Aaron Hendra moved Tiffany (and some of us) to tears with his impromptu live performance of a tender song in dedication to when he and she first met. The pair had recently relocated to Dallas from Los Angeles, where Tiffany says the partying lifestyle had gotten to be too much for her. The two were shopping for guitars when Aaron decided to plop down and serenade his lady in a living fantasy of all I've ever wanted out of a relationship.
While the Real Housewives series generally focuses on the lives and dramas of the ladies, sometimes the supporting cast of husbands and boyfriends plays an important role in the cyclone of conflict constantly surrounding the women. If the gentlemen of Dallas are going to be important to the storylines of the Housewives, I would like to know more, please. And Aaron Hendra's adorable little ditty has gotten me desperate for more details on his music career. Does he have a band still? What are some other songs of his? Is he any good? Is he actually Keith Urban in disguise? These are important questions that I, and the people, deserve to know.
Check out some of his music below, and feel free to compare and contrast his talents with those of, say, LuAnn de Lesseps and Kandi Buress.
Aaron's song "Alive" is a straight-up love ballad, in which he croons lyrics like, "You make me feel like I'm alive," and "You make me stronger than I am," which I can only assume is intended for his wife, Tiffany.
Octobersong, Aaron Hendra's debut solo album, was released in 2014 under the name Aaron Hendra Project. The album came after many years of a start and stop musical career that started with the single "Don't Let It End" written for Australian superstar John Farnham, and included a short-lived band with Savage Garden and Lifehouse rocker Ben Carey.
The band was formed when Aaron teamed up with drummer Gigi Gonaway. The band's sound is definitely rock and roll, with a bit of a country twang, giving it an energetic, soulful feel. It's easy to see why Tiffany fell in love.
From the research collected above, I think I can definitively state that Aaron Hendra is not actually Keith Urban in disguise (though I cannot say that they don't see the same hairdresser). He is, however, clearly a talented musician and devoted husband, who seems as besotted with his beautiful wife as ever.