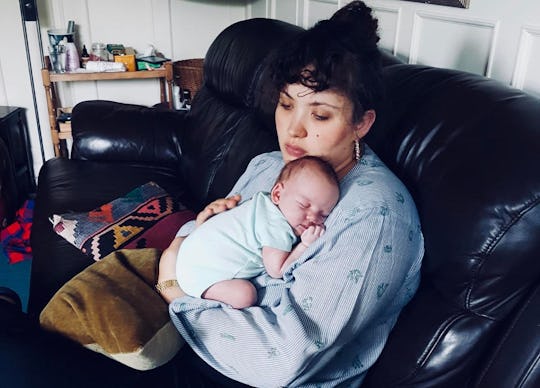 Courtesy Marie Southard Ospina
TBH, My Body Didn't Feel Like My Own After Giving Birth
When my eldest daughter was born in 2016, I kind of shocked myself. I had been told countless times that pregnancy and motherhood would change my relationships, particularly my relationship with myself. I was warned about the seemingly inevitable body image issues that'd creep up on me, postpartum. A relative swore that she and her partner lived a sex-free life for two years after having their first kid. "My body doesn't feel like mine," another friend and first-time-mom solemnly confessed over a glass of cocoa.
The first time around, after four weeks spent recovering from an epidural gone wrong and some vaginal stitches, I actually felt pretty at ease in my figure. I appreciated the subtle changes in my belly, thighs, and boobs as tangible signs of this new chapter of my life. I felt more attracted to my husband than ever before, having shared an experience so intimate and gruesome and unlike anything else we'd been through. Despite the supposed "flaws" I could spot when looking in the mirror (bright red stretch marks adorning my stomach; boobs that sagged much more than before), I liked how I looked. I liked the strength I felt in knowing what my body was capable of.
This is a difficult concept to explain to someone who hasn't given birth, or struggled with issues of identity.
When I learned that I'd be having a second child in the summer of 2018, I began to worry about a lot of things. Finances. How to possibly give both children equal attention. How I was ever going to start writing books now. My relationship with my body was not on the list, though. The postpartum experience had been an emotional whirlwind the first time around, sure, but I never took out my frustrations on my body. I assumed things would be the same this time.
Not so much.
My second baby has just turned 4 months old, and things most certainly are not the same. I remember my friend's words frequently, because over 20 weeks into this thing, my body still doesn't feel like mine.
This is a difficult concept to explain to someone who hasn't given birth, or struggled with issues of identity that might tie in with their physical appearance. I have tried to share my feelings with my partner on numerous occasions — when I have flinched after a cuddle, or turned down the chance for intimacy several times in the same week, or when I have changed my outfit six times before landing on what has become the usual leggings and T-shirt combination.
My body feels different when it is touched. It feels different to walk through the world in, and with.
In truth, it's almost as though there is a barrier between my mind and my body. Call it a brick wall, or a mountain, or a thunderstorm getting in the way of what should be a lovely drive. Regardless, what used to be a cohesive package (that which included the internal and external components of myself) is now two separate entities. In my mind, and perhaps my heart, I can be feeling beautiful, or in love, or serene as I gaze upon my girls' faces. I can crave intimacy. I can want to wear something that makes me feel sexy or powerful or free.
My body often seems to have other plans, though. It can fail to react to the psychological cues I'm giving it. It can fail to move in the ways I want it to. It can become so worn out and fed up that it refuses to appease any desire I might have other than to rest. My body feels different when it is touched. It feels different to walk through the world in, and with. Even though I'm no longer in pain from labor — even if the poignant and traumatic memories of those hours have begun to dim — it simply doesn't feel like mine.
I am not unhappy with the physical transformation that two pregnancies in the span of two years have brought upon. Much like my initial postpartum view, I am above all grateful to my body. I like the softness of my lower belly. I like the sag brought upon by nursing my children. I like the dark circles under my eyes, which never fail to remind me that I'm doing the best I can.
I am not unhappy in motherhood, either. While I try to be honest about its struggles, exhaustions, and very hard days, it is undoubtedly the greatest thing I have ever done. I have a toddler who makes me laugh until I cry on a daily basis. I have a baby whose smile is the warmest thing I've ever seen. I am invigorated by a sense of purpose that had long evaded me before becoming "mama."
And so, I do not believe that the disconnect I am experiencing between mind and body is a sign of dissatisfaction or of body image struggles. I do not believe that it is a sign that I'm "failing" at being a mom, or that I'm "failing" at being my own person. Maybe there's a biological, hormonal element to the experience; but perhaps not. Perhaps it's just a thing that's happening, as it happens to so many women who birth a human being. Pregnancy and labor can be so rich, yet so debilitating; so empowering, yet so shattering. Maybe this is all part of the recovery.
The thing is, I'm sure I will "recover." There are already moments in which whatever this disconnect is seems to fade. Sometimes it's when I get a bit of alone time with my partner. Sometimes it's when I manage to get out of the house for some fresh air. Or when I soak my body in a baby-free bath.
There are other times when I feel as though my body may never be "mine" again, though. Or at least, the body I knew before my second daughter was born. I am not the same person I was before her, and I am most definitely not the same person I was before my eldest's birth. I have evolved and grown and become a parent. I have learned to move through my life as a person who must always think of her two little humans before acting. I have changed. I am changing every day.
Maybe, then, my body is changing, too. It may not feel like mine now, but I'd like to think that once this brick wall, or mountain, or thunderstorm crumbles and fades, there'll be a newer, better version of myself waiting.
This first-time mom wants to have a home birth, but is she ready? Watch how a doula supports a military mom who's determined to have a home birth in Episode One of Romper's Doula Diaries, Season Two, below. Visit Bustle Digital Group's YouTube page for the next three episodes, launching every Monday starting November 26.