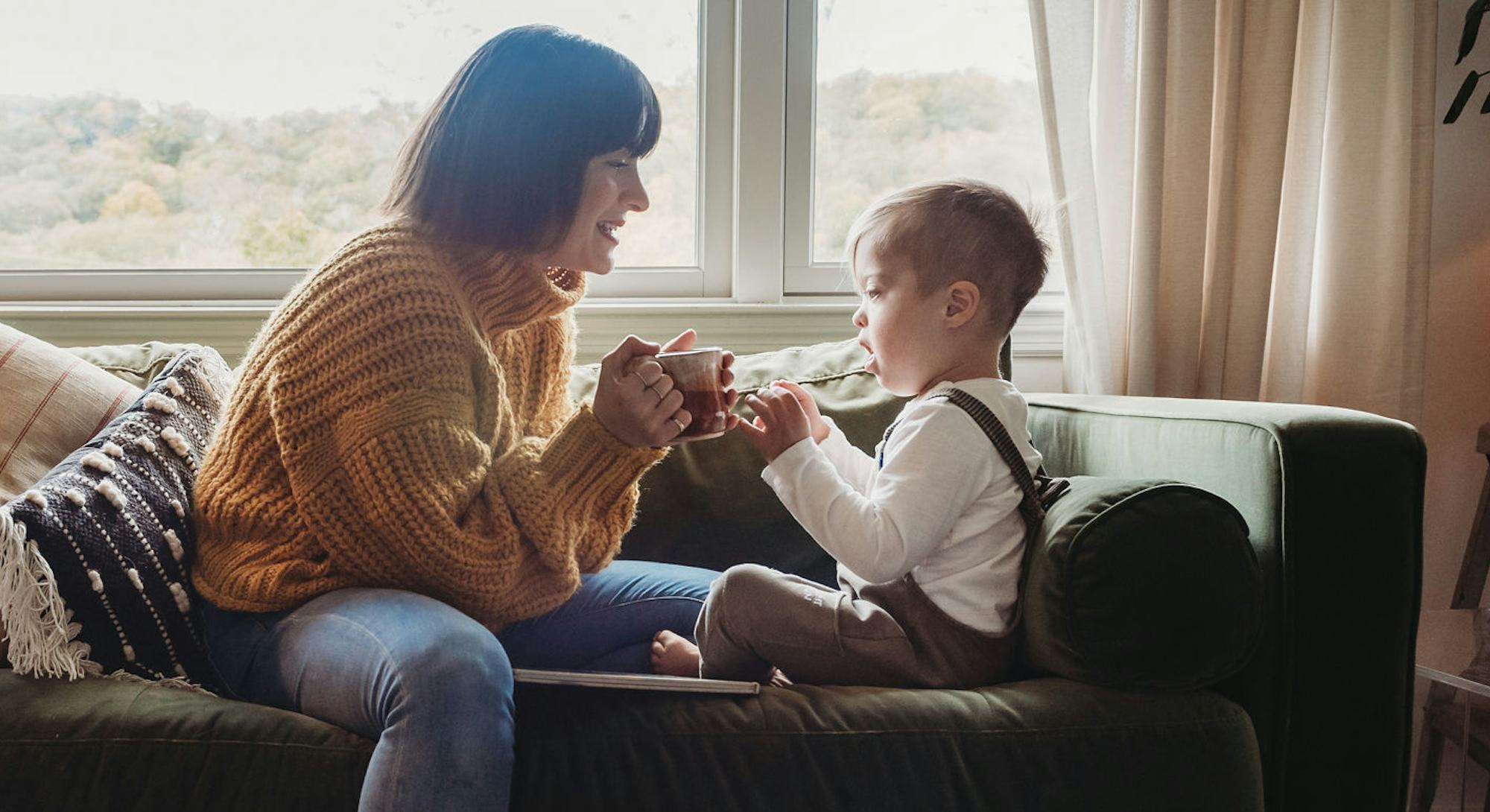 Photography by Amy Drucker
"We Don't Want To Talk About What's Uncomfortable, So We're Left Feeling Alone."
For families with medically complex children, each day is a story of survival. Parents' lives are entwined with the medical system that keeps their children alive, and yet go unrecognized by that system when it comes to identifying and treating the ongoing effects of trauma and uncertainty. This Changes Everything goes inside the lives of six families to look at the prevalence of PTSD among caregivers, and consider the steep costs we demand of those fighting day in, day out for their families.
Enrica Haelen lives in Garrison, New York, with her husband, Jake, and their two children. Her older child, Raphael, has Down syndrome. He was born with an intestinal blockage that required surgery at 2 days old and a month-long NICU stay. He has also had a series of respiratory infections that have required hospitalization. Enrica left her job in NYC as a director of an art gallery in order to take care of Rafi, and now his younger sister, Agatha, full-time. She also works as a birth doula and supports other families through NICU stays. She has complex emotions around Down syndrome, and feels like we need to talk more about medically complex children. This is her story, as told to Hillary Savoie.
My son Rafael was diagnosed at birth with Trisomy 21, also known as Down syndrome. I knew the moment he was placed in my arms. Down syndrome means he has three, rather than two, copies of his 21st chromosome. Down syndrome causes developmental delays, distinct physical traits, and may be associated with certain health problems. Children with Down syndrome can do everything their peers do. They just take a different path in getting there. What I didn't know about Down syndrome when Rafael was first born, but know now, is that my son would be my greatest teacher, accomplish wonderful things, spread love to everyone he meets, and be perfect in my eyes.
When I was pregnant with Raphael, I didn't receive genetic testing. We opted out, deciding that nothing would change who our son was. However, late in my pregnancy, we did discover that Rafi had in a blockage in his intestine called duodenal atresia, which meant that we had to prepare ourselves for surgery after he was born to repair the blockage. We had a pediatric surgeon all ready, so we could assess when the surgery would need to take place. So, the day of his birth, after discovering also that he had Down syndrome, we learned that he would have surgery at two days old to repair his blockage.
I had a career before getting pregnant with Rafi. I thought, living in New York City, we will either get a babysitter or nanny or put him in daycare. And obviously, I'd go back to work. I was a director of Contemporary Art Gallery in Chelsea. I worked at the same gallery for over 11 years. I vividly remember being in the NICU and having everyone asking, "So what are you going to do about work?" And I remember being in the waiting room getting so upset at them being like, "Why are you asking me this, of course I'm going back to work. It's part of me and I've worked so hard for it. Rafi doesn't change anything."
When he was 6 months old, he was in daycare. He was getting sick, and he was starting Early Intervention, a Department of Health-run program for physical therapy, occupational therapy, speech therapy for children that are eligible for it. It was just a lot to juggle: Rafi was getting sick and there were a lot of specialists and it just felt very overwhelming. And my husband and I together decided that I would leave my work and stay home with him.
And I would say that by far has been the hardest change since Rafi's birth for me. It was just a personal choice for Jake and me. And it felt right for us. It might not be right for everyone. It might not even be possible for some families. It changed our lifestyle, but, I felt like I needed to know that I was giving my all to Rafi. That meant sitting in on his therapy services, learning from those therapists, and continuing what I learned when they weren't around because they were only around for a few hours a week. I just knew in my heart: if I give this boy everything, just teach him, he will do anything he wants to do. And it's proven from anything I read. And it's proven by just seeing him and how amazing he's doing.
When he was eight months old, Rafi got hit with the flu, RSV, and pneumonia all at once. And he just needed extra care. We had a little over a week-long hospital stay that first round. Coming from the NICU and then being back in the hospital for another week, you just kind of immediately are hit with: Okay, this is going to be what our life is like, because children with Down syndrome tend to have compromised immunity, fighting something as simple as a common cold is just much more difficult for them.
We had another week-long hospital stay when he was about 2 years old. That particular one took me a little aback, medically. He was hospitalized for pneumonia again, but that time we came home with oxygen and a pulse oximeter. It worried me because we still hadn't figured out why he was constantly having pulmonary infections. Then we learned, finally, that he aspirated on liquids (meaning that he was breathing them into his lungs). He just needed his liquids thickened. For new parents of children with Down syndrome, it's like a learning curve. Like, you're trying to figure out how to keep them the healthiest that you can. And since then, I feel like we've kind of been in a place of like, knock on wood, that we understand Rafi and the complexities of his unique little body and how to keep him healthy.
I think we have a right, especially parents with children with special needs, to celebrate the things we're kind of in the clear with.
I always want to be sensitive to other parents that have children with more complex medical issues. And to observe that, to understand that they are juggling maybe a lot more when it comes to kind of medical conditions, but that also I understand their fight. In the case with Rafi, there are so many things that like we're constantly juggling, and then on the flip side, we've discovered that all he needed was liquid thickened. And we've been kind of a year in the clear, which has been good! And I think we have a right, especially parents with children with special needs, to celebrate the things we're kind of in the clear with. And then we can also talk about and shed light on the challenging parts of it.
PTSD and postpartum depression or postpartum anxiety is very much on my mind. I sought out therapy for it, because I felt like I was witnessing my child do really amazing things, but something was still hurting me inside, this kind of aching feeling. And I and so when I speak to [my therapist], I something that I find really interesting is I'm constantly trying to negate these thoughts. [Saying] I shouldn't be feeling this way, because Rafi makes us so happy. I don't care that he has Down syndrome.
In the NICU, I didn't have time to think about Down syndrome.
However, day-by-day the challenges take a toll you. Like I see my daughter, who's two years younger than Rafi, doing something so easily: going down the stairs. And Rafi can't do that. He doesn't have that skill yet. He stands at the top with his hands up to be picked up, but my 1-and-a-half-year-old, she just goes right down. I can be proud of my daughter and at the same time hurt for my son. And then hours later when he eats the independently with his fork, we celebrate. I can celebrate that, too, and that's fine, too. And it's just what makes my family us.
There are days where there is a health concern where he has a sniffle, and I immediately think, and this is going to sound extreme, but I immediately think he has leukemia. Because when you have a child with Down syndrome, you learn that statistically they're more likely to have leukemia than typically developing children. I feel like a lot of parents of children with Down syndrome share this because we're checking their skin (for small bumps; signs of petechiae). If I'm seeing he's pale because he's getting a cold, that's where my mind goes. I don't I don't know why I just go right there over. Or if he's having trouble breathing, I immediately think we've got to go to the hospital. And we're gonna have another week-long stay.
It wasn't until recently that I realized I needed to seek help for it. In the NICU, I didn't have time to think about Down syndrome. I just was thinking about getting him home. I would say "He's coming home. He's going to come home." I was grateful for that. Just being in the NICU, you're experiencing so much emotion, and you're also witnessing so much. Just knowing you'll bring your baby home, you're grateful for that. I just had to wait for him.
And then we got home. And you are falling in love with the baby that you have, but you're also grieving so badly this baby that you thought you were going to have. I was really was like: We don't care about his diagnosis. We love him. You have a newborn, he's little, and you're doing all these fun things. It doesn't hit you. And then you have a toddler, and you're the thick of it. Then I realized that it was because of Down syndrome that I am where I am.
And there are a lot of times that I'm so grateful. I love Down syndrome. I wouldn't change him for the world. I don't dislike Down syndrome on Rafi. I love him for who he is. But there are times I get angry at it. I realized there were days where I was just really unhappy, and I didn't to feel like me. But I couldn't show anyone, because I love Rafi for who he is. I wanted to be stronger than that, like it wasn't his diagnosis affecting me. But it was. And I needed to come to terms with that. But it took me a long time.
I think it's normal and healthy, to have these emotions. So, when those emotions come up I allow them to and talk about it. You need to find a place to release these feelings, to understand that they're common. But at the same time, because of Rafi I've learned to see this world in a completely different way. He's allowed me to slow down and appreciate the little things. Rafi has brought so much good into my life. The positive outweighs all of this. For all of my worries for Rafi, he proves to me that I have nothing to worry about.
I started attending births as a doula [when Rafi was 1 year old]. I have had clients with babies that have had NICU stays. Which I always feel really passionate about and really prepared to support them. So, I'm always spreading the word that if there are parents that want that extra support because they know that they're going to have a NICU stay or their child is going to have a diagnosis, that's a passion of mine. For example, although we had a birth diagnosis [of Down syndrome], I did know that we were going to have a NICU stay, I knew that breastfeeding might not be possible. And that was something I really wanted. But I had to come to terms with that maybe not being a possibility for us. And these are things that women could really benefit from having a doula or someone that can support them.
Like, I refused a Caesarean. They wanted to just like take him out. And I was like, there's no need for that, and they thought I was crazy. I had to advocate for myself while I was like an active labor. I was thinking, "No, I know what my son needs. And he needs me to be on my feet, like the minute he's born. He needs me to be up. And by his side, if he's going into surgery." I felt like I needed to be able to physically support him. He needed me.
We don't want to talk about what's uncomfortable, so we're left feeling alone.
The day he went into surgery was the day I got discharged from my room at the hospital. And I remember sleeping in the waiting room, my husband and I spooning in a little love seat. I remember seeing all the moms and the NICU like right after Caesarian, right after childbirth, feet not up, still with their peri bottles and so weak. If that's not traumatic, I don't know what is. You can't be two days postpartum, spooning on love seat in a waiting room with fluorescent lights on and barely a blanket. And then getting up every hour and a half to go sit by your child's bedside. That's obviously going to affect you.
One day [when Rafi was in the NICU] my sisters and my aunt and my mom came to visit and take me out. We went across the street to get a salad and everyone like talking, just trying to change the topic. And I just remember not being there. I was thinking, "Why am I here at the salad bar. What is happening?" What I would have wanted more was if we used the time to let me be vulnerable and cry. And, instead, they were trying to change the topic. I remember thinking, "This is so pointless right now. And like I am numb to what's happening and I would feel so much better if you ask me how I was doing." And I would have had plenty to talk about.
I know they meant well, of course. It's because we don't want to talk about what's uncomfortable, so we're left feeling alone. I just wish it wasn't [such a] faux pas to straight-up say, "How are you? I know this is really hard for you. Tell me what you're feeling."
It was the same thing with friends, like friends that I've known since childhood like sisters to me. Only like a few really had the courage to ask me, "How does it feel? How does this feel for you? Like what are you going through?" And others just decided distraction is the better way, not talking about it.
I think it's changed me in a way that I go right to it. I look a person in the eye nowadays, someone that is going through something, and I say, "Wow, this must be really hard. Tell me tell me what's on your mind. Tell me what you're feeling. I'm here for you. I'll listen."
But that's what I learned. That's what I would have wanted. You know, talking about it. Let's talk about it.
This interview has been edited for length and clarity.
Photography: Amy Drucker
If you or someone you know is experiencing symptoms of PTSD or a related condition, contact the National Alliance On Mental Illness HelpLine at 1-800-950-NAMI (6264), Monday through Friday, 10 a.m. to 6 p.m. If you are experiencing postpartum depression or anxiety, you can also contact the Postpartum Health Alliance warmline at (888) 724-7240 or Postpartum Support International at (800) 944-4773. If you are thinking of harming yourself or your baby, get help right away by calling the National Suicide Prevention Lifeline at 1-800-273-8255, or dialing 911. For more resources, you can visit Postpartum Support International.