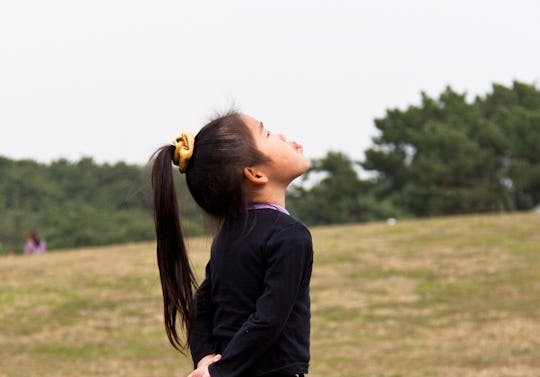 Fotolia
My Daughters Love To Scream "PENIS!" & I Don't Want To Send The Wrong Message
Our resident advice-giver-outer Jenny True provides shouty, full-hearted answers to your niggling questions about pregnancy and parenthood in her column What The Actual. Warning: This is not a f*cking baby-and-me singalong, this is about yelling into the cosmos and actually hearing something back, sometimes in the form of an all-caps swear. Jenny isn't an ~expert~, but she has a lot of experience being outraged on your behalf. To submit your questions to Jenny, email advice@romper.com.
Dear Jenny,
My 8-year-old and 6-year-old daughters think it's hilarious to scream the word "penis." I don't want to reprimand them for using the biologically accurate term for the male phallus, but I want them to understand it's not acceptable to scream that word in public. How do I navigate this without sending the wrong message?
Let's Use Our Indoor Voices
Dear Indoor Voices,
When I was in college, one of my many work-study jobs was sitting at the desk in the library's reserve room. I had to check bags to make sure no one took any books out. I sat in the cavernous, three-story, cylindrical room reading the thinnest books I could find in the stacks, since I couldn't take them home, either: The Bluest Eye by Toni Morrison, On the Road by Jack Kerouac.
One day, a group of freshmen came in and fanned out. Before long, I heard the first voice: "Penis." Then the second, louder: "Penis."
THOSE F*CKING FRAT RUSHEES WERE YELLING PENIS IN THE RESERVE ROOM. And wow, did they pick the right person to mess with. Never one to pick my battles, I got up and went off in search of the offenders, who continued to yell "Penis!" louder and louder, but of course, any person I walked by was doing nothing more than reading a book he'd picked off the stacks. I circled, growing more and more frustrated — ONE MIGHT SAY IMPOTENT — as the voices became louder, with one final man-child shouting, "PENIS." I returned to my desk and waited for the group to file out, glaring at them over a copy of One Flew Over the Cuckoo's Nest.
To be fair to your daughters, lots of people think screaming the word "penis" is hilarious — small children and frat rushees, for example, who have many things in common. I still think it's hilarious to say "testes, testes" into a microphone, but unfortunately my life does not provide many opportunities of late for me to speak into a microphone.
I agree that teaching your kids the proper names of body parts should not morph into the poetic when it comes to genitals. Body shame is taught, and creating a mystique around body parts can imply it's shameful even to refer to them. So maybe I refer to my son's "wiener" when I'm talking to my friends, but when I take off his diaper and his hand goes BLAM right to his penis and he uses his new pincer grip to pinch the tip OW OW OW OW, I say WHY ARE YOU DOING THAT TO YOUR PENIS MY SON.
Your real question is HOW DO I GET THESE SMALL PEOPLE TO DO WHAT I WANT.
I feel your pain. I'm trying to get my son to stop barfing on me. Whenever he starts coughing or gagging, which happens often because he gorges on breast milk and then sticks a plastic popsicle stick or a xylophone mallet down his throat, I hold him over his father and say, "BARF ON HIM. WHY DO YOU ALWAYS BARF ON ME." But I haven't figured out how to stop his behavior, besides removing his food source as well as his toys, which seems inappropriate and, of course, illegal.
To make sure people out in the world treat us with respect, we need to offer it first.
As I'm sure you're aware, your daughters like to scream the word "penis" because a). it's a body part, and at their age body parts and bodily functions are the pinnacle of comedy, and b). they know it's inappropriate but not really discipline-level behavior.
As with many developmentally appropriate behaviors, this is a phase, but the phase is outlasting your patience, and anything that tests your patience needs to be addressed. So, these are your options:
1. BEGGING, PLEADING. NEVER WORKS.
2. PUBLIC HUMILIATION. PROS: VERY EFFECTIVE IN THE SHORT TERM. CONS: HUMILIATED SMALL PEOPLE TURN INTO ADULTS WHO DO NOT VISIT ON HOLIDAYS.
3. Replace the behavior. Suggest something they can yell that will interest them more. I suggest "vagina."
4. Use the word "penis" so often around the house it loses its luster. Wake them up in the morning by leaning into their rooms and yelling, "Penis!" When they walk into the kitchen for breakfast, yell, "Penis!" When they tell you about a difficult situation at school, nod in understanding and say solemnly, "Penis."
5. Have a conversation. Explain the difference between public and private spaces. Both have codes of conduct. To make sure we're respecting everyone in the public space — INCLUDING YOUR FATHER WHO WOULD PREFER YOU NOT YELL PENIS IN PUBLIC — we wear clothes, go to the bathroom in private, and don't yell the names of private parts. At home, we can be naked, and we can talk about anything. But to make sure people out in the world treat us with respect, we need to offer it first. Kids are hugely concerned about fairness, so framing this as an equality issue — Is it fair to make someone else uncomfortable just because we think something is funny? How would that make us feel? — may make some sense to them.
IMPORTANT NOTE: When dealing with girls, avoid advice that instructs them to be "nice" or any of the other f*cking tropes we level at girls to get them to act submissively and not express themselves. For example, never instruct girls to "act like young ladies." NO NO NO. And in this case, don't warn them that their behavior could invite unwelcome attention. Remember: Nothing girls and women do invites sexual harassment or assault. NOTHING. SEXUAL ASSAULT IS THE FAULT OF THE PERPETRATOR, NOT THE VICTIM. So little girls who yell "penis" should get the same treatment as little boys. When in doubt, give yourself the feminism test: Would I say the same thing to my son? If the answer is no, can it.
THIS IS ONE OF THOSE ANNOYING PARTS OF CHILD-REARING THAT, WHETHER YOU DO ANYTHING OR NOT, WILL PASS. IF YOU END UP WITH AN 18-YEAR-OLD WHO'S STILL YELLING PENIS YOU HAVE BIGGER PROBLEMS THAN I THOUGHT. IN THE MEANTIME, YOU GOT THIS.
Are you currently asking yourself What The Actual about a parenting sitch? Send a question to Jenny by emailing advice@romper.com.
Check out Romper's new video series, Bearing The Motherload, where disagreeing parents from different sides of an issue sit down with a mediator and talk about how to support (and not judge) each other's parenting perspectives. New episodes air Mondays on Facebook.