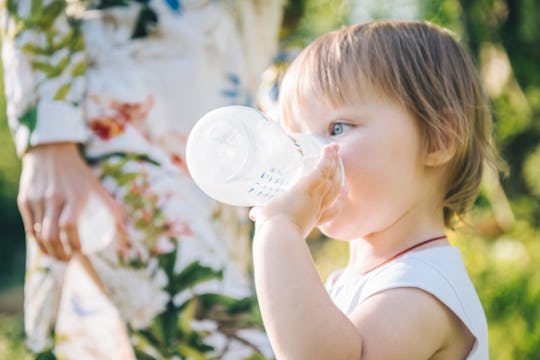 phpetrunina14/Fotolia
8 Reasons Why I Refuse To Make My Toddler Stop Using A Bottle
The other day I innocently posted a photo of my toddler on Instagram. He was fighting nap time, I was impossibly tired, and, at the time, I didn't think there was anything particularly controversial about the picture or post. Turns out, I was wrong. Apparently, the fact that I still let my toddler have a bottle is a major parenting faux pas. Too bad, I guess, because I absolutely refuse to make my 1-year-old stop using a bottle for a variety of really good reasons.
Now, I know doctors and dentists recommend that your baby stop drinking from a bottle by their first birthday. While that advice might make sense for some kids, mine is not ready to break free of his bottle habit. You see, he can drink out of a cup, just not all that well. We're working on it, OK? We give him a cup of water or formula at every meal, and he drinks some of it, but then it generally ends up on the floor. He is a toddler after all. To make mealtime even more complicated, he has food allergies, which means that he can't eat everything a typical toddler eats. As a result he still gets hypoallergenic formula every single day, per his doctor's orders, to ensure that he gets what he needs to grow and thrive.
Plus, and I'm not going to lie, giving him a bottle of formula is easier. I'm not ashamed to do something that gets the job done, that he enjoys, and that makes my life as a mom easier. So, instead of stressing about it, I've grown to love bottle-feeding. I try to view bottle-feeding him the same way I viewed breastfeeding my older son — as long as it's mutually desirable, I'm not going to force my kid to wean before they are ready. I don't see my toddler still using a bottle any differently than someone else's toddler breastfeeding after age 1. It's a personal choice, and it works for us.
So, for now at least, I'm not taking away my 1-year-old's bottle, for so many reasons including the following: