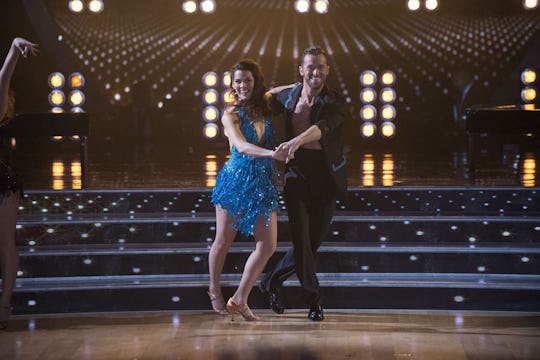 Eric McCandless/ABC
Nancy Kerrigan Opened Up About Her Miscarriages On 'DWTS'
Since the Season 24 premiere, Nancy Kerrigan has clearly been working hard and working through whatever insecurities she has as a performer, but it was during Week 4's "Most Memorable Year"-themed night when she really showed her true and vulnerable self by revealing one of the most difficult times of her life. Nancy Kerrigan opened up about her miscarriages on Dancing With the Stars, and it gave viewers a little bit of insight into her life beyond ice skating and beyond her place on DWTS now. It also delivered a powerful message about the very real loss and the physical and mental toll that going through a miscarriage takes on women.
It's been years since the figure skater competed in the Olympics, but Nancy is still remembered for her athletic skills, and also for being attacked after a practice session back in 1994. Despite the famous attack on her knee caps, Nancy has managed to come back with a vengeance and has opened up so much on DWTS already. While she could have picked her most memorable year as the one she competed in the Olympics or recovered from her injury, she instead listed when she finally had her first child, Matthew, in 1997.
But despite having her son, it wasn't easy for Nancy to have her next two children and not only did she talk about it on DWTS, but she danced through it in fluid, smooth movements where you could actually feel her emotions. Nancy gave birth to her son Matthew in 1997, but after that, she had six miscarriages over the course of eight years. During rehearsals with pro partner Artem, she opened up about how she eventually turned to in vitro fertilization.
Just being able to talk about her miscarriages on DWTS was obviously hard for Nancy to do, but the way she opened up about them and talked about becoming a mom showed the reality of what so many women go through, but may find it hard to talk about themselves. Judge Carrie Ann said that Nancy always has "that incredible vulnerability," but this performance enabled Nancy to also show an "incredible courage."
During a week when all of the stories the stars tell are emotional, Nancy's own story on DWTS was not only brave, but an important story to tell. Her emotions came across in her performance, too, earning her a 33 out of 40 for Week 4. Nancy said on DWTS that she'd always had a dream in her mind of having a certain number of children and the seemingly perfect family, but the reality of it is that it rarely goes as planned for any parents. But Nancy never gave up on seeing her family grow and now she has three beautiful children.
Nancy's story helped her to work through the real pain she no doubt still feels even all these years later and brought to light some of the struggles of getting pregnant that women face each and every day. But just in doing so, it brought out an obvious strength and empowerment in the former figure skater that viewers may not have seen before.