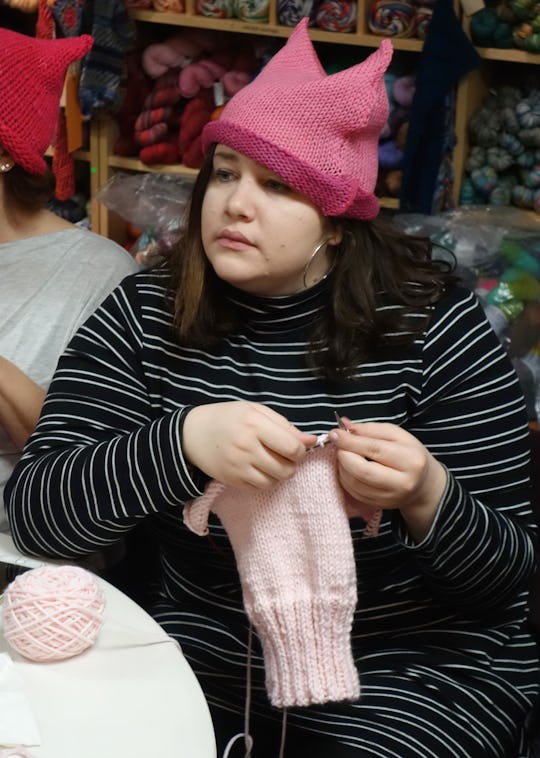 WILLIAM EDWARDS/AFP/Getty Images
The Perfect Nasty Woman Merch For Inauguration Day
With Inauguration Day fast approaching, many people are standing by their conviction that President-elect Donald Trump is #NotTheirPresident — and they'll be coming out in full force on the weekend of the inauguration to protest his appointment. If you're planning to use your voice to protest the president-elect's administration, you may want to get suited up for it. Yes, I'm talking about getting knitted p---y hats and "nasty woman" merchandise to wear on Inauguration Day.
After all, there's no better way to announce your dedication to diversity, immigration, women's rights, and the United States that you'd like to see than with the now-legendary symbol of women's resistance to Trump. The election may be over, but "nasty women" everywhere across the country are ready to fight for their beliefs during the next four years.
So whether you're marching in the Women's March on Washington on Saturday, tuning into Inauguration Day on Friday, or simply getting ready to reassert your nasty woman status for the next few years (or, you know, for forever), here's some of the best nasty woman gear to wear. (Even better? Some of the companies involved are donating proceeds to worthy organizations like Planned Parenthood.)
The Nasty Woman Bracelet
Um, who said that the word "nasty" can't come in a super classy look? Stella & Bow have created this awesome, dainty Nasty Woman bracelet, which has a 14 karat gold chain and plastic letter beads. Buy it for $38 online, and feel good about the purchase — 100 percent of the proceeds go to Planned Parenthood.
Madame President If You're Nasty Long Sleeve Tee
Stay cozy, warm, and empowered this winter. Hillary Clinton may not have become madam president, but some day, some girl will. These Society6 Nasty Woman shirts go for $28 and are available online.
Nasty Woman Short Sleeve Tee
This short-sleeve Nasty Woman tee by Google Ghost is both cute and does good. Get it for $25, with half of the proceeds donated to Planned Parenthood.
Make America Nasty Again Cap
At first glance, this may look like Trump propaganda... but look again. Psych! These Make America Nasty Again caps by Magic Society Store are just straight-up awesome. Get one for $25 on Etsy.
Nasty Woman Necklace
Need some more bling for your protesting? This Nasty Woman necklace by Bang-Up Betty is both gorgeous and impactful. Get it on Etsy for $35.
Nasty Woman Temporary Tattoo
If you want to wear "Nasty Woman" a little closer to your skin, nab this Nasty Woman temporary tattoo from Conscious Ink for Inauguration Day. It'll only set you back $2.50 — and if you buy a bunch, you can get your friends inked, too.
America Needs Nasty Women T-Shirt
Nasty women, unite — your country needs you. Advertise it with this Raygun "America Needs Nasty Women" t-shirt, which you can buy online for $21.
The Definition Of A Nasty Woman On A T-Shirt
If you want to make sure people know what a real Nasty Woman is, get its definition printed on a shirt. This Nasty Woman definition t-shirt is available on Etsy for $20.
Once you've got your merchandise sorted out, get ready to make some noise on Inauguration Day weekend. After all, you're a nasty woman — make sure your voice is heard.