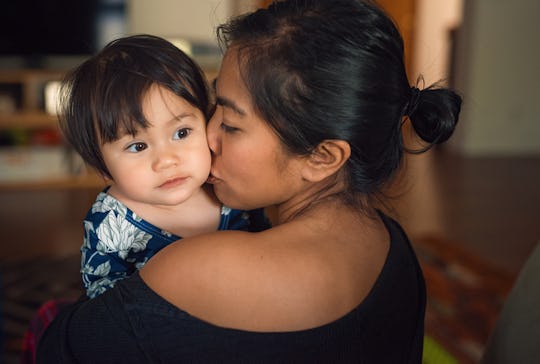 Layland Masuda/Getty
16 Quotes For National Sons' And Daughters' Day That Are Sweeter Than Candy
Happy National Sons' and Daughters' Day! Don't know what that is? Don't worry. We've got the skinny on this darling holiday that falls on August 11. Have a son? Have a daughter? Love them to pieces? Of course you do. That's why this holiday was invented, but more on that later. To get you in the spirit of this children-loving fete, post any one of these Instagram captions to celebrate National Sons' and Daughters' Day, because a hug just won't cover it.
According to NationalDayCalendar.com — the internet's go-to resource for obscure holidays — National Sons' and Daughters' Day traces its history back to 1944. That's when the first published account of this event was noted in the St. Joseph News-Press/Gazette. Allegedly, a certain Mr. J Henry Dusenberry felt compelled to promote the holiday after overhearing a child ask why there wasn't such an occasion. Go-getter that he was, Dusenberry sprung into action spreading the good news of National Sons' and Daughters' Day across Missouri and lo and behold, it took off. The annual event was commemorated by parents who placed "a flower representing each of their children in a vase and put the vase in a prominent room in the house. Throughout the day, parents thought about their children as they gazed at the flowers, especially those who no longer lived in the house."
But you don't have to limit your party to floral displays. Show your kids how much you love them by having a slip-n-slide competition, going for a hike, or simply reading a good book together. If anything, this day is just about taking a moment out to tell your children how much they mean to you. And if you can't find the words, maybe some of these quotes will help.