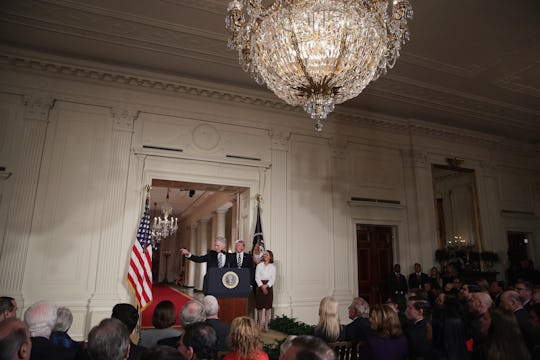 Alex Wong/Getty Images News/Getty Images
These Neil Gorsuch Jokes & Memes Will Heal Us All
Well, it's official. President Donald Trump has announced his choice to fill the vacant seat on the Supreme Court of the United States, left empty for nearly a year after Justice Antonin Scalia unexpectedly passed away last February. While Trump's choice of a largely-conservative-leaning man isn't exactly surprising, the future is definitely uncertain, as many upcoming SCOTUS cases have the potential to change many lives, and not entirely for the better. As such, everyone would do well to self-medicate with these awesome jokes and memes about new SCOTUS nominee Neil Gorsuch that have been flooding our feeds, to numb the pain of either his nomination of the long drawn-out process that led to this moment.
While, of course, the nomination is only the beginning, and Obama's nomination of Merrick Garland back in March of 2016 didn't seem to mean much to Congress, this feels different. Now, with a majority Republican-controlled Congress and Gorsuch prepping to take a Supreme Court seat, it seems there won't be much standing in the way of Trump's plans for very long.
Truly, it seems that President Trump is determined to make his mark among America's most well-known presidents, despite popular opinion that his decisions aren't exactly well-informed. And his latest move — nominating Neil Gorsuch to the Supreme Court — is right in line with his past rhetoric, whatever that may mean for the marginalized among us.
So, in an attempt to forget the hell-fire our nation seems to be in the midst of, please, sit, relax, and maybe even have a little laugh. These memes and jokes are here for you.
Even before the official announcement was made, and Americans waited, the jokes were coming in hot:
Many were quick to point out the resemblance Trump's nomination held to reality television, especially The Bachelor. And, honestly, it's not that far-fetched of an idea, seeing as how our current president has certainly known his fair share of reality television, hosting The Apprentice and The Celebrity Apprentice prior to his campaign for presidency and his stints hosting Miss USA for several years.
And when Trump finally made his announcement (via a Facebook live stream which just screams "presidential," don't ya think?), the jokes got even better.
Mostly, the tweets and jokes following the announcement were full of sass, realness, and fire.
And, once the official nomination was named, many were quick to research Gorsuch and where exactly he stood on many important issues. But, obviously, the fact that Trump has picked a strict conservative to be on the Supreme Court was enough for most people.
While Gorsuch's nomination may scare or confuse you (much like the pronunciation of his name, huh Mr. President?) remember that nothing is final or set in stone yet.
So keep laughing, because we all deserve to right about now.