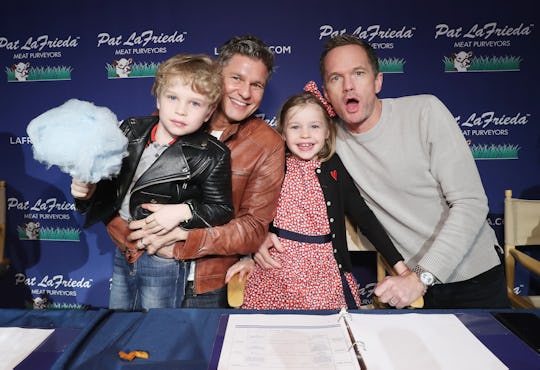 Cindy Ord/Getty Images Entertainment/Getty Images
Neil Patrick Harris' Family Halloween Costume Might Just Be Their Spookiest Yet
I'm a huge fan of Halloween, of course, but I'm nowhere near as dedicated as Neil Patrick Harris and David Burtka. If you've ever followed either of their social media accounts, you know the couple and their 8-year-old twins essentially own Halloween at this point. And this year Neil Patrick Harris' family Halloween costume might be their best one yet, which is really saying something.
The How I Met Your Mother alum and his husband David Burtka are parents to two of the cutest 8-year-old twins you've ever seen, daughter Harper Grace and son Gideon Scott. And boy does this family ever relish getting into the Halloween spirit every year.
As much fun as they've probably had in previous years, let's face it — now that the twins are 8, they can start getting into the spooky Halloween costumes. And their kids seem like they're super game for whatever their dads want to do for Halloween... including dressing up as the sinister ghosts from the classic Disney World ride The Haunted Mansion.
It probably helped that Burtka and Harris got in on the act by getting into costume as the hitchhiking ghosts from the same ride, complete with this weird sort of grey body paint and everything.
Burtka took to his Instagram account to share a photo of the family in full Halloween splendor in what looks like a cemetery, but is probably actually their front lawn, with the caption:
Welcome, foolish mortals. We hope your Halloween is happily haunted, but heed this warning: beware of Hitchhiking Ghosts!
Harper is in the foreground dressed as a spooky bride ghost while Gideon is hitchhiking as an old man ghost in the background. Fans obviously loved it. "This is amazing! I look forward to this yearly and this might be my favorite," one commented.
Another declared, "i live for this picture every year."
"This is the post I've been anticipating all month! Well done 💜," one more wrote.
The family doesn't just celebrate Halloween on the actual day either; on Saturday Burtka shared a picture of various terrifying accessories with the caption "Halloween party clean up #lifeisaparty."
Also you should know this is what their fireplace looks like and now I'm feeling all kinds of terrible about my one poorly carved Jack-o-lantern.
Neil Patrick Harris and David Burtka's family have become such Halloween inspirations that it's sort of becoming an annual thing to check out their social media for the much-anticipated family Halloween costume. And with good reason. Here are a few from the past.
2013
2014
Can we all just please take a moment to appreciate how amazing it is that both Harper and Gideon get into character with such hilarious intensity? Honestly, it's probably the best thing about these costumes.
2015
2016
2017
The amount of preparation that must go into pulling together these costumes (please see Harper as the bearded lady above) must be staggering. But so totally fun and completely worth it — Every. Single. Year.