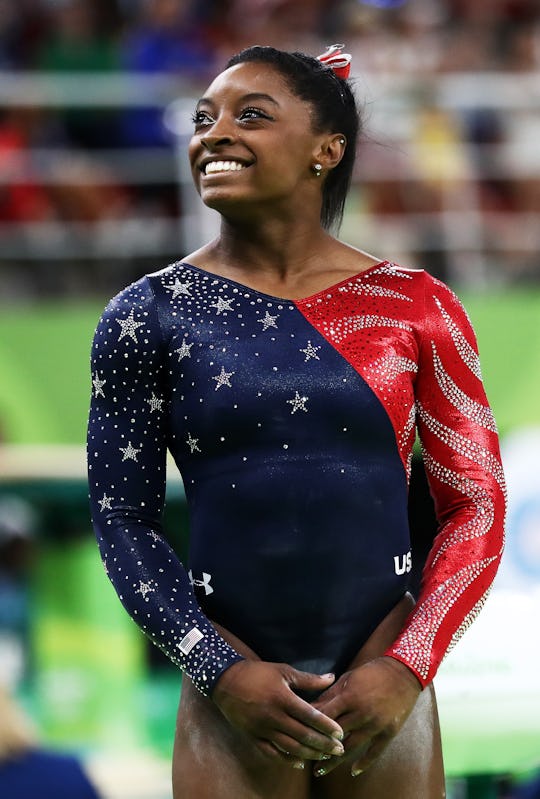 Ezra Shaw/Getty Images Sport/Getty Images
Nellie Biles Quotes On Simone Biles That Prove Their Family Bond Is Strong
It may seem like the entire world is rooting for Olympic gymnast Simone Biles at the 2016 Summer Olympics in Rio de Janeiro, Brazil, but no one's excitement can even come close her grandmother's, the woman the American all-star calls "mom." Nellie Biles is without a doubt Simone's number one fan and always seems to find the right words to say to give the first-time Olympian the perfect burst of encouragement. "Momma Biles" — as Simone calls her — often sends the gymnast supportive messages and these Nellie Biles quotes on Simone Biles prove their family bond is incredibly strong.
The 19-year-old gymnast's journey to the Olympics started when she was just 6-years-old and was enrolled in her very first tumbling class. Simone was reportedly inspired by what she had seen during a school field trip to the gym and wanted more. Of course, that wasn't the only pivotal moment that set Simone on the path to the big leagues: It's now been widely reported that Simone's father and grandfather, Ron Biles, and his wife, Nellie, adopted the gymnast and her sister, Adria, after their biological mother, Shanon, was unable to care for them. (According to ESPN Magazine, Shanon struggled with alcohol and drug addiction, which left Nellie and Ron Biles legally in charge of the girls.)
Although the first six years of Simone's life had rough moments — she and her siblings were shuffled between foster homes — her proud mother has been her biggest cheerleader ever since that first gymnastics class and these uplifting and supportive quotes show just how important those moments were in getting Simone to where she is today.